Why is Harper Lee's estate feuding with Aaron Sorkin? It's complicated.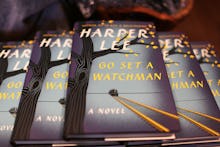 West Wing creator Aaron Sorkin may be besmirching the good (fictional) name of Atticus Finch — at least according to the estate of the late Harper Lee.
Lee's estate is taking legal action against a planned Broadway adaptation of her classic 1960 novel To Kill a Mockingbird, alleging that the script of the play, written by Sorkin, alters the character of Atticus Finch, breaching a contractual agreement. The suit is just the latest drama in a series of controversial developments related to Lee's work in the years just before and after her death.
The Associated Press reported on Wednesday that Lee's estate has filed suit against producer Scott Rudin's theater company, which is putting on the stage version of To Kill a Mockingbird, set to open in New York in December. The suit claims that Sorkin's script violates a contract signed by Lee before her death in 2016, which stipulated that the play will not "depart in any manner from the spirit of the novel nor alter its characters."
The suit cites a September 2017 interview that Sorkin did with Vulture, in which he said that the Atticus Finch of his play would be "a different take on Mockingbird than Harper Lee's or Horton Foote's." The Finch of Lee's novel — and of the much-lauded 1962 film adaptation, written by Horton Foote and starring Gregory Peck — was a paragon of morality. In Lee's novel, Finch, a lawyer, endures the scorn of his racist Southern town when he takes on the case of a black man who has been unjustly accused of raping a white woman.
Sorkin suggested to Vulture that the Finch in his adaptation wouldn't start out as righteous as he comes across in the novel. "He becomes Atticus Finch by the end of the play, and while he's going along, he has a kind of running argument with Calpurnia, the housekeeper, which is a much bigger role in the play I just wrote," Sorkin said. "He is in denial about his neighbors and his friends and the world around him, that it is as racist as it is, that a Maycomb County jury could possibly put Tom Robinson in jail when it's so obvious what happened here. He becomes an apologist for these people."
It's these comments that — at least in part — led the Lee estate to file suit against the stage adaptation for changing the character of Atticus Finch. But, to many, Finch's character was already altered years before this lawsuit. The controversial release of Lee's "second" novel — Go Set a Watchman, released in 2015, decades after Lee had first written it — presented a much different Atticus Finch than the one set forward in To Kill a Mockingbird.
While Go Set a Watchman was marketed as a separate work and described as a "newly discovered manuscript," it was written before To Kill a Mockingbird and, according to the New York Times, served as an early draft of Lee's famous novel. Despite its origins, the story of Go Set a Watchman takes place years after the events of To Kill a Mockingbird. In it, Scout, the child protagonist of To Kill a Mockingbird, is a grown woman, and her father, Atticus Finch, rather than being an honorable lawyer, is a "a bigot," as the Times put it, with racist views that adult Scout must come to terms with.
As a former executive at the publishing house that published To Kill a Mockingbird told the Times, there had never been any plans to publish Go Set a Watchman as it was.
And even the question of just how "newly discovered" the book was is up for debate: The manuscript of the book was, according to reports, accidentally discovered by Tonja Carter, Lee's lawyer and friend who now serves as the overseer of her estate, and the force behind this new lawsuit. Carter initially said she was "stunned" when she found the manuscript in the summer of 2014, but a later New York Times report indicated that the discovery may have been made back in 2011 — further clouding the already-complicated saga of the book's release. Meanwhile, Lee's age and reports of her health at the time raised concerns among some that she was being exploited or that Go Set a Watchman was being published against her wishes.
But the much-hyped book was released, as scheduled, in July of 2015, and many reviews centered on how different the Atticus Finch of Go Set a Watchman was from the hero of To Kill a Mockingbird. New York Times book critic Michiko Kakutani, in her review, said the Finch we had known was "an enlightened, almost saintly believer in justice and fairness." But the Finch of Go Set a Watchman is, Kakutani wrote, "a racist who once attended a Klan meeting" who has "abhorrent views on race and segregation."
It could be that Sorkin's version of Finch, in his upcoming stage adaptation, attempts to reconcile different versions of the character presented by Lee's own work. As the AP reported, Lee herself approved Sorkin as a screenwriter in 2015. But the trouble seems to have started after Lee's death: According to the AP, Carter had expressed "concerns" about Sorkin's script in September of 2017, and then again in February, when the conversation between the two of them became "heated," the suit alleges.
A statement to the AP from a firm representing Rudin's theater company defended Sorkin's script, calling it "a faithful adaptation of a singular novel which has been crafted well within the constraints of the signed agreement." The statement also referred to the suit as "the latest of many" filed by Lee's estate. Past such examples include a 2013 lawsuit filed by Lee's lawyers against a small nonprofit museum in Lee's hometown of Monroeville, Alabama, which served as the inspiration for To Kill a Mockingbird.
The firm representing the theater company said in their statement to the AP that they believe this latest lawsuit is "without merit," adding, "While we hope this gets resolved, if it does not, the suit will be vigorously defended."