Sister of Charleston shooter Dylann Roof arrested after allegedly bringing weapons to school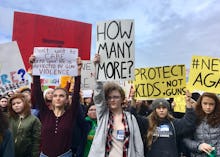 Morgan Roof — the sister of South Carolina mass shooter Dylann Roof — was arrested on Wednesday after allegedly bringing weapons onto school property.
As thousands of students across the country streamed out of classrooms on Wednesday in a tribute to victims of February's deadly Parkland, Florida, school shooting, the Washington Post reports that students at A.C. Flora High School in Columbia became concerned about an image 18-year-old Roof posted to Snapchat deriding her classmates who had chosen to participate in the 17-minute walkout.
In a post captured in a screen shot and uploaded to Twitter, Roof wrote that the walkout, dedicated to the 17 students and staff members who had been killed in Florida on Feb. 14., wouldn't help protesters to achieve their political aims.
"Your walking out for the allowed time of 17 min, they are letting you do this, nothing is gonna change what tf you think it's gonna do?" she wrote. "I hope it's a trap and y'all get shot we know it's fixing to be nothing but black people walkin out anyway."
According to the Post, Roof was detained and taken to the Alvin S. Glenn Detention Center, where she was later charged with two counts of carrying weapons on school property and possession of marijuana.
In 2015, Roof's brother, Dylann Roof, became notorious after he walked into a Charleston, South Carolina, church during a Bible study class and killed nine black members of the congregation, admittedly in an attempt to incite a race war. During court proceedings, it was revealed that Roof identified as a white supremacist and had written a manifesto dedicated to his racist beliefs.
In a statement issued to parents on Wednesday, A.C. Flora school principal Susan Childs acknowledged that "a student [had] used social media to post hateful messages," during the National Student Walkout, but said that while the posting was extremely inappropriate, it "was not a threat."
"That student was dealt with in a swift and severe manner as the posting caused quite a disruption," Childs wrote.
Childs also noted that in an unrelated incident, school resource officers had uncovered an unloaded weapon on school grounds on Wednesday, and said that law enforcement was aiding the school in an investigation of the matter.
On Wednesday, thousands of students across the United States participated in the 17-minute-long walkout ahead of an even larger protest planned by teenage activists for March 24. The walkouts coincided with the one month anniversary of the shooting at Marjory Stoneman Douglas High School in Florida that sparked a movement around tougher gun legislation.
Brandishing signs that read "Save our kids: Make schools safe again," the walkout, which was organized with the help of the youth branch of the Women's March, publicly demanded three key actions from Congress: banning assault weapons, mandatory universal background check, and the passage of a gun-violence restraining order to allow courts to strip individuals displaying signs of violent behavior of their weapons.
"By more than one school doing this, it shows politicians and lawmakers that we want change to happen," Stoneman Douglas senior Audrey Diaz told CNN. "And the next generation is prepared to make that happen."