Google Maps adds wheelchair-accessible routes to transit directions in latest update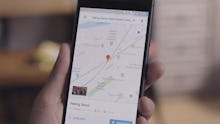 Google's latest update to Maps takes a step forward to include the estimated 1.3 million people around the world who require a wheelchair. The search company announced Thursday that Maps users can now access wheelchair-friendly directions as part of transit routes. The feature is currently available in New York City, Boston, Mexico City, London, Tokyo and Sydney, with more locations expected to arrive at a later date.
To better understand the real-world challenges commuters in wheelchairs face, Google held meet-ups and crowdsourced information.
According to Google, these routes work for other wheeled vehicles, like strollers, and even crutches. This new route feature can be combined with Google's Street View images of train stations, showing users if they can expect a flight of stairs or not.
How to turn on wheelchair-accessible routes in Google Maps
Enabling the wheelchair accessible view is simple. With the app open, enter the address of where you want to go. Underneath the addresses and commute times, tap Options. It's in this window that you can select "Wheelchair accessible," toward the bottom.
It's no secret that Google dominates the map space when it comes to accuracy. Yet updates like the latest wheelchair accessibility option show that, despite its lead, Google is still working refine the app to include as many of its users as possible — when it's not adding Nintendo characters to your route, that is.