Who's Sorry This Week? Snapchat, Joy Behar and other public apologies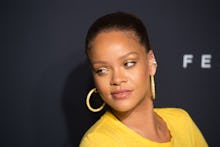 Another week, another deluge of apologies.
In "Who's Sorry This Week?" Mic tracks down the most prominent mea culpas from celebrities, companies and other public entities trying to make amends for their public screw-ups.
This week had no shortage of apologies, so let's get right to it.
Snapchat is sorry for inviting users to "slap" Rihanna in an advertisement for a smartphone game.
Early in the week, some Snapchat users found an ad for a game called "Would You Rather?" that asked whether users would rather "slap Rihanna" or "punch Chris Brown."
Some Snapchat users found this ad to be particularly tone deaf, given that Chris Brown was arrested in 2009 and later sentenced to community service for assaulting Rihanna while the two were dating.
Snapchat issued an apology Tuesday, saying the ad shouldn't have been allowed on its platform in the first place.
"The advert was reviewed and approved in error, as it violates our advertising guidelines," the statement said, according to the BBC. "We immediately removed the ad last weekend, once we became aware. We are sorry that this happened."
On Thursday, Rihanna responded to Snapchat via her Instagram story.
"This isn't about my personal feelings, cause I don't have much of them," Rihanna said. "But all the women, children and men that have been victims of [domestic violence] in the past and especially the ones who haven't made it out yet.... you let us down! Shame on you. Throw the whole app-oligy [sic] away."
Immediately following Rihanna's post on Instagram, Snapchat lost nearly $800 million as its stock fell 4%, according to CNN.
Joy Behar is sorry for saying Vice President Mike Pence is mentally ill because he thinks Jesus talks to him.
In February, The View cohost Joy Behar implied Vice President Mike Pence was mentally ill for claiming Jesus speaks to him.
"It's one thing to talk to Jesus," Behar said, according to the Washington Post, "It's another thing when Jesus talks to you. That's called mental illness, if I'm not correct, hearing voices."
The next day, Pence appeared on C-SPAN and said Behar's comments were an insult "to the vast majority of the American people who, like me, cherish their faith." By the end of February, ABC received tens of thousands of complaints by phone, according to the Post.
Behar apologized on-air Tuesday.
"I think Vice President Pence is right," she said. "I was raised to respect everyone's religious faith, and I fell short of that. I sincerely apologize for what I said."
Notably, some of Behar's cohosts said similar disparaging things about Pence but were largely shielded from criticism of the same scale.
Bono is sorry his charity organization was an alleged hotbed of bullying and harassment.
In November, accusations of abuse and bullying within the One organization — a nonprofit cofounded by U2's Bono — surfaced, detailing multiple accounts of misconduct based in the charity's Johannesburg branch.
One employee said she was demoted after refusing to have sex with a Tanzanian minister, and others said they were forced to perform "domestic work" at a higher-up's house, the New York Times reported.
Bono responded to these reports and apologized over the weekend.
"I need to take some responsibility for that," Bono told the Daily Mail. "We are all deeply sorry. I hate bullying, can't stand it."
But not everyone is buying that apology. A former One employee, Idriss Ali Nassah, who was among the first to surface accusations of misconduct in November, tweeted that many within the organization were aware of the accusations of misconduct and "looked the other way."
Fourteen current and former One employees have come forward with complaints, seven of whom intend to file a lawsuit, according to the Times.
A GOP candidate is sorry for calling a Parkland, Florida, student protester a "skinhead lesbian."
The Associated Press reported Monday that Leslie Gibson, a Republican from Maine in the running for a position in the state House, called Emma González — a survivor of the February shooting at Marjory Stoneman Douglas High School in Parkland, Florida — a "skinhead lesbian." (González identifies as bisexual.)
Gibson's tweet was in response to a Hill story that said González had grown a larger Twitter following than the National Rifle Association, according to HuffPost. Gibson also called another Parkland student, David Hogg, a "bald-faced liar." Since the shooting in Parkland, which killed 17 people, both Hogg and González have been two of the most outspoken voices for tighter gun control.
Gibson apologized to González on Wednesday, according to HuffPost.
"I would like to extend to you my most sincere apology for how I addressed you," Gibson said. "It was wrong and unacceptable. You are doing work that is important to you. I would like to extend my hand in friendship and understanding to you."
Gibson was previously running for office unopposed, but inspired a new challenger to join the race. Citing Gibson's inflammatory comments, 28-year-old Democrat Eryn Gilchrist announced she would be running against Gibson in November, according to Refinery29.
However, Gibson later dropped out of the race entirely, according to Refinery29.
March 19, 2018, 8:27 a.m.: This story has been updated.