'RuPaul's Drag Race All Stars 3' queen Aja says she regrets how she voted in the finale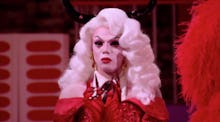 If she could, it sounds like Aja would make a deal with the devil herself for a redo of that All Stars 3 finale.
For the first time in Drag Race herstory, Thursday night's episode put a great deal of power in the hands of all of the eliminated queens, using a jury-style format in which they each voted to whittle the top four down to the top two. That resulted in Kennedy and Trixie moving onto the final lip-sync, sending BeBe and — in a shocking twist — the season-long frontrunner Shangela home. (Thorgy was the only one of the eliminated queens who voted to send Shangela onward to the final lip-sync.)
In a series of tweets posted early Friday morning, Aja — who voted in favor of Kennedy and Trixie — expressed regret for the way things shook out.
In response to a fan who said in a tweet that they felt bad for Shangela, Aja responded, "In all honesty, so do I."
Further down in the thread, Aja reminded another fan that she was only one of six people who voted on the final two, but did express regret at who she chose.
"It was very hard and I don't think I made a right decision, and I've felt guilty about it for weeks," Aja said. "I don't know what to say because there's nothing I can say. If I could vote again, I think it would be different."
Aja's disappointment that Shangela didn't join Trixie in the top two is a feeling that's been echoing through the Drag Race fandom since the finale aired.
Though, as All Stars 3 winner Trixie Mattel proved before the season even started, you don't need the Drag Race crown to be a successful queen in the long run. After all, maybe this groundswell of sympathy from the Drag Race fandom is Shangela's final, ultimate ploy in her Game of Thrones-style tactical approach to success. We're onto you, Shangie.