A wave of departures and firings are reportedly imminent at the White House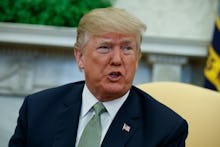 Welcome to Mic's daily read on Donald Trump's America. Want to receive this as a daily email in your inbox? Subscribe here.
Friday's dispatch: Turmoil in the White House
At the beginning of March, former White House communications director Hope Hicks became the 15th high-profile departure from the Trump administration. Two weeks later, the list has grown significantly.
On Tuesday, Secretary of State Rex Tillerson was fired — by tweet — by President Donald Trump. Trump's personal aide, John McEntee, had been removed by White House officials the day prior because of a gambling issue — though he was quickly hired by Trump's re-election campaign.
Now, the Washington Post reported Trump wants to replace national security adviser H.R. McMaster. He reportedly may be replaced with John Bolton, the George W. Bush-era U.S. ambassador to the United Nations. Trump is also reportedly looking to oust Veterans Affairs Secretary David Shulkin and replace him with Fox and Friends weekend host Pete Hegseth.
And Trump continues to be unhappy with Chief of Staff John Kelly, the New York Times reported, as Kelly tells Trump "no" too often. CBS News reported Friday morning Kelly could resign as early as Friday.
Trump has long documented his desire to create and thrive in chaos. He reiterated that on Thursday when he said during a White House press conference, "There will always be change, and I think you want to see change."
That change could come more quickly as Trump faces more pressure.
On Thursday, the New York Times reported special counsel Robert Mueller has subpoenaed the Trump Organization to turn over documents about Trump's business activities in Russia. It's the closest Mueller's demands for documents have come to threatening Trump and his family directly.
Perhaps sensing the need to more strongly signal the U.S. policy on Russia, Trump approved harsher sanctions on Moscow after the United Kingdom expelled 23 Russian diplomats. That came after the British government concluded Russia is believed to have killed a former spy and his daughter in the U.K. with poison.
Tillerson could be the first in several moves this week to quickly dismiss other members of his Cabinet that Trump is unhappy with. Watch for more turmoil in the White House. And watch for Democrats in the Senate to take advantage of the chaos by making it difficult to confirm Trump's new Cabinet nominees.
Today's question: What will be the influence of new officials in the Trump administration?
Please email us at trumpsamerica@mic.com with your thoughts.
Friday in Trump's America:
Opioids: Trump will soon announce a new opioid plan that includes the death penalty for drug dealers, Politico reported.
Stormy Daniels: The porn actress' attorney, Michael Avenatti, said Friday morning on MSNBC that Daniels was physically threatened to remain quiet about her alleged relationship with Trump. More will be released in nine days when Daniels interview with 60 Minutes airs.
National Walkout Day: At least two black students in Chicago were handcuffed during National Walkout Day demonstrations against gun violence on Wednesday.
Mass shootings: These are the 15 mass shootings that have happened in the U.S. since Parkland, Florida. (Another one happened March 12.)
Banking bill: After passing the Senate, conservative House Financial Services chairman Jeb Hensarling (R-Texas) said the legislation cannot advance without broader reforms to the financial industry. That elicited groans from lawmakers, who do not want to relive floor debate on the bill that lowers the threshold of regulation on banks critical to the economy.
House GOP: Republicans on the House Intelligence Committee wanted the main headline on Monday to be that they found no collusion between Trump and Russia. Instead, the media focused on the fact the GOP said U.S. intelligence agencies botched the investigation.
California Democrats: In some races, there are so many Democrats running for U.S. House seats it may lead to no Democrats making it to the general election. Here's why.
Russian hacking: The Department of Homeland Security on Thursday accused Russia of targeting nuclear and critical manufacturing facilities in an attempt to target the U.S. power grid.
Divorce: Vanessa Trump filed for divorce this week from Donald Trump Jr. after 12 years of marriage. She is not contesting any of their assets.
Canada: Trump is convinced the United States is at a trade imbalance with Canada. Numbers from the U.S. Department of Commerce — and Canada — say otherwise.
Today's MicBite:
Lewis Mizen is one of the Parkland teens calling for more gun control. Nathan Breau is a proud member of the National Rifle Association who defends the rights of gun owners.
You'd probably expect Lewis and Nathan to be enemies. But when they actually sat down with one another, this is what happened instead.