Plus-size male models recreate a Calvin Klein ad to make a point about fashion's other size issue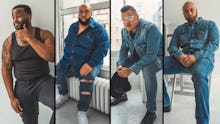 When you think of the term "plus-size model" there's an extremely high chance that images of women like Ashley Graham or Denise Bidot or Candice Huffine pop into your brain. Male plus-size models, which do exist, are likely not what come to mind.
Plus-size male model Darnel Ghramm and his new project #WeAreBigAndTall is trying to change that, starting first with his own body-positive spin on a Calvin Klein ad.
Similarly to Diana Sirokai's recreation of a Klein ad featuring the Kardashian-Jenner clan, which featured all curvy and plus-size models, Ghramm recreated a Klein menswear ad featuring only plus-size male models.
"I immediately thought it would be cool to recreate the shoot for my birthday with a few friends," Ghramm said in an email to Mic. "In the midst of planning, I was tagged in a post by @foreverfeminism. The image and caption read, 'I've never seen a plus male model.' And that's when hit me, I'm a plus male model and can definitely recreate the #MyCalvins campaign shoot. When I saw Diana's shoot it just solidified the idea and I knew I had to do the shoot and answer the questions the others were asking."
For this campaign, which was photographed by Tony Trott, Ghramm recruited a few of his fellow plus-size male models, including Rob Robinson, Arcadio Ady Del Valle and Miguel Rodriguez.
"Re-creating the shoot was fairly easy," Ghramm said. "I didn't want to do it exactly the way [Sirokai] did it. I got together a few plus males with different ethnicities, height, sizes and shapes... We exist and we are constituted by many different things. Whether big, tall or simply fall outside of the worlds standards, we are all handsome and worthy."
There has been confusion over plus-size male models and where they fit into not only the body positive conversation but the fashion industry for years now. Questions like "What constitutes a plus-size male model?" and "Should we really even call them 'plus-size male models'?" remain unanswered.
With this particular project, Ghramm strove to shed some light on these issues, and the general confusion facing plus-size men in fashion right now. With so much appreciation for plus-size female models, the lack of plus-size men is distressing.
"We must continue to push the boundaries and unfortunately we gotta work twice as hard to prove ourselves," Ghramm said. "We will eventually earn our spot, as wrong as that sounds. But we're working to break down all barriers and feel confident that we will get there. That we will see ads every where and it won't longer be taboo to see a full figure. Eventually, we'll drop the 'plus' and simply be models."
March 19, 2018, 9:04 a.m.: This post has been updated with comments from Ghramm