HR McMaster resigns from Trump administration, will be replaced by John Bolton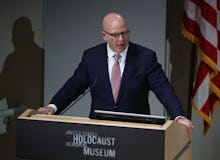 National security adviser H.R. McMaster will resign from the Trump administration, the White House announced Thursday afternoon, making McMaster the latest member of President Donald Trump's senior staff to leave the White House in recent weeks.
Although Trump and McMaster never got along well, the White House says the decision was a mutual one.
Trump and McMaster, "have been discussing this for some time," a White House official said in a statement. "The timeline was expedited as they both felt it was important to have the new team in place, instead of constant speculation. This was not related to any one moment or incident, rather it was the result of ongoing conversations between the two."
McMaster said in a statement that he is "thankful to President Donald J. Trump for the opportunity to serve him."
"I am grateful for the friendship and support of the members of the National Security Council who worked together to provide the president with the best options to protect and advance our national interests," McMaster said.
According to the White House official, McMaster is set to be replaced by former U.N. Ambassador John Bolton, an odd choice given that Bolton is a military hawk and major supporter of the Iraq War — which Trump attacked Hillary Clinton for voting for during the 2016 campaign.
Just a week ago, White House press secretary Sarah Huckabee Sanders took to Twitter to assure the public that McMaster's job was safe. "Just spoke to @POTUS and Gen. H.R. McMaster — contrary to reports they have a good working relationship and there are no changes at the NSC," Sanders tweeted on March 15.
Sanders hammered that point home a day later, chastising the media in a daily news briefing for asking about whether McMaster's job was safe.
"Gen. McMaster is a dedicated public servant, and he is here not focused on the news stories that many of you are writing, but on some really big issues: things like North Korea; things like Russia; things like Iran," Sanders said in her March 16 briefing. "That's what he's doing, and that's what we're going to continue to be focused on every single day that we show up for work."
McMaster, a lieutenant general in the Army, is the second national security adviser to leave the administration just over a year into Trump's tenure.
Michael Flynn, Trump's first national security adviser, lasted a few days into the administration before he was forced to resign. Flynn has now pleaded guilty to lying to the FBI, part of special counsel Robert Mueller's Russia probe.
Trump and McMaster's poor rapport spilled out into the open in recent weeks.
Trump publicly chided McMaster on Feb. 18 after McMaster took a tougher stance on Russia's involvement in the 2016 U.S. presidential election.
After a federal grand jury indicted 13 Russian nationals in February for meddling in the election, McMaster said Russia's interference "is now incontrovertible." Trump appeared to take issue with McMaster's comments on Twitter.
"General McMaster forgot to say that the results of the 2016 election were not impacted or changed by the Russians and that the only Collusion was between Russia and Crooked H, the DNC and the Dems," Trump tweeted after McMaster's comments, falsely accusing the Democrats of colluding with Russia. "Remember the Dirty Dossier, Uranium, Speeches, Emails and the Podesta Company!"
Still, Trump praised McMaster in a statement on Thursday.
"H.R. McMaster has served his country with distinction for more than 30 years. He has won many battles and his bravery and toughness are legendary," Mr. Trump said in the statement. "General McMaster's leadership of the National Security Council staff has helped my administration accomplish great things to bolster America's national security."
March 22, 2018 6:47 p.m.: This article has been updated.