While you weren't looking: 5 stories from the Trump administration that aren't about Stormy Daniels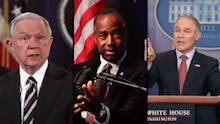 This week the news was dominated by yet more staff shake-ups within the White House including the (sort of) surprise firing of Secretary of State Rex Tillerson.
Between Tillerson's departure, rumors of even more administration exits and the ongoing revelations in both the Robert Mueller investigation and the Stormy Daniels scandal, there was hardly much oxygen left for major news that broke across multiple White House agencies this week.
Here are five stories you might have missed.
ICE spokesman resigns over false and misleading claims by Sessions
James Schwab, a spokesman for Immigration and Customs Enforcement's San Francisco office, resigned on Tuesday after refusing to repeat false claims about ICE arrests made by Jeff Sessions and ICE Director Thomas D. Homan.
On Feb. 24, Oakland Mayor Libby Schaaf warned her city of upcoming ICE raids set to occur across the Bay Area. The following week, both Homan and Sessions railed against Schaaf, claiming that hundreds of "criminals" had avoided capture because of Schaaf's actions.
Schwab claimed he was instructed by senior officials to respond to any inquiries about Schaaf by referring to back to the allegations made by Sessions and Homan.
But Schwab said Sessions' and Homan's characterization of events is inaccurate, and that the raids carried out in Oakland actually resulted in more arrests than the agency had expected.
"It's the job of a public affairs officer to offer transparency for the agency you work for," Schwab told the San Francisco Chronicle. "I've never been in a situation when I've been asked to ignore the facts because it was more convenient."
Conservatives sent the State Department fake news to try and oust longtime staffer
Conservatives outside Trump's administration, including such prominent Republicans as former House Speaker Newt Gingrich, reportedly sent the State Department false and misleading information about a top staffer in order to get her sidelined.
Emails first obtained by Politico show that Gingrich and others had sent officials in the State Department, including the secretary of state's chief of staff, a news article from the obscure conservative website Conservative Review that alleged that State Department staffer Sahar Nowrouzzadeh, an Iran expert, was loyal to former President Barack Obama and had "burrowed into the government."
State Department aides were falsely told that Nowrouzzadeh was born in Iran and had cried when Trump was elected president. Nowrouzzadeh first entered government during the Bush administration and, in fact, was not born in Iran.
Steven Mnuchin spends $1 million in taxpayer money in latest plane travel controversy
Treasury Secretary Steven Mnuchin just became the latest in a long line of Trump Cabinet officials to come under fire for expensive travel on taxpayers' dime.
On Wednesday, emails obtained by government watchdog group Citizens for Responsibility and Ethics in Washington revealed that Mnuchin had spent more than $1 million in military aircraft used for business travel.
The Treasury Department said in a statement that the CREW report consisted of "falsehoods and mischaracterizations," and that Mnuchin had booked the travel because of "complexities of scheduling, logistics, costs and secure communications needs during travel."
Several of Trump's other Cabinet secretaries, including EPA Administrator Scott Pruitt, Interior Secretary Ryan Zinke, Energy Secretary Rick Perry and Veterans Affairs Secretary David Schulkin have already faced scrutiny over far less expensive air travel scandals. Former Health and Human Services Secretary Tom Price resigned after it was revealed he has used $400,000 in taxpayer money for chartered flights.
Emails debunk Ben Carson's excuse for $31,000 dining set purchase
After it was discovered that Housing and Urban Development Secretary Ben Carson had spent $31,000 on a dining set for his Washington office, Carson claimed that he "had no awareness that the table was being purchased."
But emails published on Wednesday suggest that Carson had known about the cost of the furniture, and that he and his wife had specifically picked out the set. One email specifically refers to "printouts of the furniture the secretary and Mrs. Carson picked out."
A HUD spokesman had previously claimed that the request for the new table had been made "by the career staffers in charge of the building."
The emails also show that Carson's office made multiple attempts to try and get around a $5,000 spending limit for new furnishings.
"He only gets 5k for new stuff," then-HUD chief administrative officer Helen Foster wrote to a fellow employee in one email. "He chose to use it on window treatments," it reads.
Foster has since claimed that she was demoted for protesting the purchases.
Pruitt meets with coal CEO who raised $1 million for Trump's campaign
Since taking office, Environmental Protection Agency Administrator Scott Pruitt has resisted all requests that he disclose his schedule and the people with whom he meets.
Now an environmental advocacy group has discovered that Pruitt met early in his tenure with a coal CEO who has been trying to get the agency to dial back a pollution rule that affects his business.
Documents obtained by the Sierra Club via a Freedom of Information Act request show that Pruitt met with CEO of White Stallion Energy Steven Chancellor in May.
Chancellor boasted about raising more than $1 million for the Trump campaign during a fundraising event in 2016. That same year, Chancellor had been petitioning the Obama administration to roll back a rule that regulates pollution across state lines.
The EPA told Politico that it had not made any decisions yet on whether or not to update the rule.
March 16, 2018, 5:10 p.m.: This story has been updated.