Inside the grassroots, youth-led push for more mental health resources in schools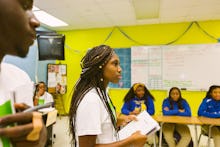 In December 2012, 16-year-old Kyrah Altman sat glued to her television screen as grim images of a deadly school shooting in Newtown, Connecticut, flashed before her eyes. The older sister of three siblings who were close in age to the 20 young victims killed during the Sandy Hook Elementary School massacre, Altman felt deeply and personally affected by the tragedy; after all, Newtown was only about a two-hour drive from her own high school in Leominster, Massachusetts.
In a phone interview, Altman recalled being "heartbroken and confused," by the tragedy she saw unfolding, but also, suddenly, furious.
"I kind of went into this passionate search for information," she said.
She summoned several of her closest friends to the living room of her parents' house that day, and, over pizza, they began talking about what they could do to help. By the end of the meeting, they had formed the beginnings of LEAD, or Let's Empower, Advocate and Do — an entirely student-led organization dedicated to increasing mental health and gun violence awareness.
"It wasn't a club at school where we had an adviser, it was purely just a bunch of 16-year-olds who were told at every turn by every adult you can think of, 'Don't do this, you're crazy, it's not going to go anywhere,' but who decided to do it anyway," Altman, now 21 and the president and co-founder of LEAD, said.
Since the 2012 shooting that inspired LEAD, there have been nearly 300 more school shootings in the United States. But the death toll from the massacre at Sandy Hook Elementary School would remain unrivaled in its scale until February 2018, when a lone gunman opened fire in Marjory Stoneman Douglas High School in Parkland, Florida, killing 17 students and members of faculty with an AR-15 semi-automatic rifle. This time, the response to the tragedy was different, because the teenage survivors of the shooting were leading the charge for reform — and in addition to their ambitious goals around gun control, they were also pushing for action on mental health.
A package of legislation signed into law by Florida Governor Rick Scott on March 9 included several contentious provisions aimed at tightening restrictions on gun sales in the state, including changing the legal age of purchase from 18 to 21 and banning the sale or possession of bump stocks. But the bill also included over $69 million for mental health assistance in schools.
Alisa LaPolt, the executive director of the National Alliance on Mental Illness Florida, cautioned against conflating the wellspring of interest in mental health resources in Florida with the 19-year-old Parkland shooting suspect's own issues. In a phone interview, she argued that "so many more factors were involved beyond mental health ... childhood trauma, problems in the home — there were a number of checkpoints that were missed for this to happen."
But a triage system, like the one she said NAMI Florida is advocating for, would potentially help students get the intervention they need before they do harm to themselves and to others — "and quite frankly they're more likely to do harm to themselves — far more than other people," she added.
Altman is part of a growing wave of young people who have examined the mental health resources on offer in their own communities and decided to take matters into their own hands in the wake of a devastating surge of violence in schools that began with the Columbine High School shooting in 1999.
During the course of their research as members of the newly formed LEAD, Altman and her peers quickly discovered that their own Leominster High School not only had the third highest rate of suicide in Massachusetts, but that the mental health frameworks in the state had not been updated in nearly 20 years.
"For Massachusetts to be a very forward thinking, progressive state and to not have that updated — health, which is changing every day — that was outrageous to us," she said. "We knew something had to change."
With LEAD, Altman and her classmates teamed up to create their own mental health curriculum, called TryHealth, which has been piloting for about a year and a half in Leominster. She says the program has already seen an increase in care-seeking behaviors in students and knowledge of mental health care, and an increase in utilization of self-care and coping mechanisms.
In a phone interview, Risa Berrin, the founder and executive director of Health Information Project, Inc., said that she had already been thinking about how inadequate the health programs she remembered from her time in Florida's Miami-Dade County public schools were — all outdated textbooks, cheesy videos and scare-tactics that, in her mind, just weren't working — when she got word in 2008 that the state had eliminated health education as a requirement to graduate. With the existing curriculums already falling by the wayside, Berrin created the Health Information Project, which uses a youth peer counselor model to bring health education to students in terms they can better relate to.
"We're utilizing the best army, so to speak, which are the kids," Berrin said. "Peer pressure has historically been viewed as something that's negative — kids will pressure each other to have sex or to try drugs or cigarettes. We thought, you know what? Kids look up to other kids, so why don't we equip these 11th and 12th grade kids at our schools with the science-based information and have them teach the health class?"
In 2016, Altman competed as a freshman at George Washington University in the New Venture Competition, with the idea of creating an organization to sell the TryHealth curriculum to schools, as well as providing trainings to educators, community members and nonprofit leaders to improve early intervention health.
The project won second place, with a prize of $32,500, and its young founders are now working on scaling it to become a full-fledged company by the time they graduate from college.
Because the LEAD curriculum was written by students for students, Altman said, its creators see it as an accessible way to break down stigmas around mental health education for students.
"We're slowly breaking down the stigmas around mental illness, and people are finally coming to the surface, finally beginning to seek treatment," she said. "The problem I see with older generations and older people is — it's not their fault. They grew up in a society where mental illness was stigmatized much more."