David Shulkin out as Veterans Affairs secretary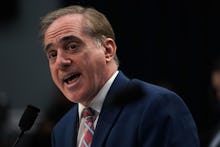 Veterans Affairs Secretary David Shulkin has left his role as of Wednesday evening, and President Donald Trump announced he's nominating Rear Adm. Ronny Jackson for the position.
"I am pleased to announce that I intend to nominate highly respected Admiral Ronny L. Jackson, MD, as the new Secretary of Veterans Affairs," Trump tweeted Wednesday evening. "In the interim, Hon. Robert Wilkie of DOD will serve as Acting Secretary. I am thankful for Dr. David Shulkin's service to our country and to our GREAT VETERANS!"
It's unclear whether Shulkin resigned or was fired. However, Nevada Democratic Rep. Dina Titus tweeted Monday evening that she had just spoken to Shulkin an hour before the announcement that Trump was nominating a new VA secretary, suggesting Shulkin may have been fired.
I was just on the phone with Secretary #Shulkin in the last hour discussing @DeptVetAffairs' move to end #DogTesting at the #VA, and there was no hint that he was about to be fired. I thank him for his years of service to our nation's veterans," she tweeted.
Shulkin, a holdover from the Obama administration, came under fire in February after an inspector general found that he improperly used taxpayer funds for his wife to accompany him on a 10-day European trip. He had become so embattled in recent weeks that he reportedly kept an armed guard outside his office.
Shulkin is now the third Cabinet official to leave the Trump administration, following Health and Human Services Secretary Tom Price in September and Secretary of State Rex Tillerson earlier this month.
Over the past few months, a number of other top senior aides have also left the White House in what's been a chaotic start to 2018 for the government's executive branch.
Initially, it seemed like Trump was going to nominate Fox and Friends co-host Pete Hegseth to take over Shulkin's role. Hegseth, an Iraq War veteran who wants to privatize the VA health care system, would have had a tough road to confirmation.
Instead, Trump chose Jackson, who has served as the White House physician for the past three presidential administrations of Presidents George W. Bush, Barack Obama and now Trump.
Wilkie, who is serving as interim until a permanent secretary is confirmed, currently serves as under secretary of Defense for personnel and readiness.
March 28, 2018, 6:53 p.m.: This story has been updated.