Trump lawyer calls for Justice Department to kill Mueller probe day after McCabe firing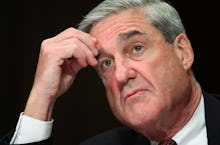 John Dowd, a lawyer for President Donald Trump, is directly calling on deputy Attorney General Rod Rosenstein to end Robert Mueller's Russia investigation — one day after the controversial firing of deputy FBI Director Andrew McCabe.
"I pray that acting Attorney General Rosenstein will follow the brilliant and courageous example of the FBI Office of Professional Responsibility and Attorney General Jeff Sessions and bring an end to alleged Russia Collusion investigation manufactured by McCabe's boss James Comey based upon a fraudulent and corrupt Dossier," Dowd wrote in a bizarre email to the Daily Beast Saturday.
Trump has long been antagonistic toward the special counsel's probe into ties his campaign and the Kremlin and possible obstruction of justice on his part, but the comments Saturday from his personal lawyer are particularly striking, as they come less than 24 hours after Sessions sacked the outgoing number two at the FBI.
Trump has repeatedly attacked McCabe since last summer, when he became acting FBI director following James Comey's firing. The president publicly pressured Sessions to remove McCabe from that role, accusing the career FBI staffer of being an ally of Hillary Clinton.
The firing came days before he was set to retire from the bureau — and ahead of an upcoming inspector general report that will reportedly accuse McCabe of lacking candor with internal investigators. Trump celebrated the deputy director's termination as a "great day for Democracy."
McCabe, though, said he was axed as "part of a larger effort not just to slander me personally, but to taint the FBI, law enforcement and intelligence professionals more generally."
"It is part of this administration's ongoing war on the FBI and the efforts of the Special Counsel investigation, which continue to this day," McCabe said in a scathing statement Friday.
McCabe's ouster could put extra pressure on Rosenstein, who has overseen the FBI probe since Sessions recused himself from matters related to the investigation in early 2017, to bend to the will of the president and his allies, who characterize Mueller's probe as a politically motivated "witch hunt."
Rosenstein, however, has repeatedly said he sees no just cause to terminate the special counsel.
"The special counsel is not an unguided missile," Rosenstein told USA Today in an interview Monday. "I don't believe there is any justification at this point for terminating the special counsel."
Trump has already attempted to fire Mueller once, it was reported earlier this year, and has indicated he believes it should end, describing it recently as an "American disgrace."
But Dowd — who said Saturday he was speaking on the president's behalf — made one of the Trump team's most direct calls to kill the FBI investigation, possibly signaling a shift to a more combative legal strategy after months of expressing a willingness to cooperate.
The president's lawyer also sent the Daily Beast a line from Tennessee Williams' Cat on a Hot Tin Roof, adding brief notes to draw parallels to what he described as "corruption" at the FBI: "What's that smell in this room[Bureau}? Didn't you notice it, Brick [Jim]? Didn't you notice a powerful and obnoxious odor of mendacity in this room[Bureau}?... There ain't nothin' more powerful than the odor of mendacity[corruption]... You can smell it. It smells like death."