Lordy, James Comey and Donald Trump are in the middle of a Twitter beef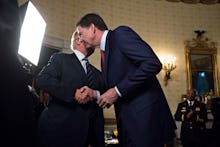 James Comey on Saturday hit back at President Donald Trump, who has ramped up his online attacks on the fired FBI director following the ouster of deputy FBI Director Andrew McCabe.
"Mr. President, the American people will hear my story very soon," Comey tweeted Saturday afternoon. "And they can judge for themselves who is honorable and who is not."
Comey's jab came after a series of Trump tweets in which the president bashed Comey and McCabe for what he described as "tremendous leaking, lying and corruption at the highest levels of the FBI, Justice & State."
"Andrew McCabe FIRED, a great day for the hard working men and women of the FBI — A great day for Democracy," Trump tweeted Saturday. "Sanctimonious James Comey was his boss and made McCabe look like a choirboy. He knew all about the lies and corruption going on at the highest levels of the FBI!"
Trump fired Comey in May 2017 in an episode that has become a significant focus of special counsel Robert Mueller's investigation into possible obstruction of justice on the part of the president.
Trump has repeatedly bashed McCabe, who became acting director of the FBI following Comey's dismissal. McCabe was set to retire after more than two decades at the FBI this weekend, but was axed by Attorney General Jeff Sessions on Friday. McCabe said his termination was part of a "larger effort not just to slander me personally, but to taint the FBI, law enforcement and intelligence professionals more generally."
Both Comey and McCabe reportedly detailed their interactions with Trump in personal memos.
The president and his allies have repeatedly bashed federal law enforcement in an apparent effort to undermine the special counsel's probe into ties between the Trump campaign and the Kremlin — an investigation that has already brought down several officials close to the president.
Comey is expected to refute Trump's attacks on the FBI during a tour for his book, which is due out next month.