Trump continues attacks on McCabe, Comey and Mueller investigation in Sunday tweets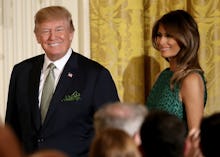 As the fallout over the firing of FBI Deputy Director Andrew McCabe continues, President Donald Trump unleashed a barrage of tweets on Sunday morning that extended his attacks on McCabe, former FBI Director James Comey and Robert Mueller's continued investigation into potential ties between Russia and the Trump campaign.
McCabe, who was fired by Attorney General Jeff Sessions days before his retirement reportedly for a "lack of candor" under oath about authorizing conversations between FBI officials and the press, criticized his termination as part of an "ongoing war on the FBI and the efforts of the special counsel investigation, which continue to this day." Following his termination, it was reported that McCabe had kept memos detailing his interactions with Trump, which could corroborate Comey — who also reportedly kept his own memos — and his account of the circumstances surrounding his own firing by Trump.
Trump hit back at the report of McCabe's memos Sunday morning, asking on Twitter if McCabe and Comey's memos could be considered "fake memos."
"Spent very little time with Andrew McCabe, but he never took notes when he was with me," Trump tweeted Sunday. "I don't believe he made memos except to help his own agenda, probably at a later date. Same with lying James Comey. Can we call them Fake Memos?"
According to Politico, McCabe said that he had a "series of interactions" in May with Trump that would presumably be detailed in his memos, including "the night that Director Comey was fired, the next morning on the phone, that afternoon in person, and then about a few days later when I was interviewed for the job of permanent director." During the interactions, Trump reportedly repeatedly brought up McCabe's wife, who lost a 2015 Virginia state Senate bid and received donations from the super PAC of former Virginia Gov. Terry McAuliffe, a Clinton ally.
Comey has testified that in his own interactions with the president, Trump asked Comey for his "loyalty" and urged him to drop an investigation into former national security adviser Michael Flynn.
"I was honestly concerned he might lie about the nature of our meeting so I thought it important to document," Comey testified before the Senate Intelligence Committee in June. "That combination of things I had never experienced before, but had led me to believe I got to write it down and write it down in a very detailed way."
Comey's May testimony before the Senate Judiciary Committee was also a source of criticism for Trump on Twitter Sunday, as the president echoed a Fox News point claiming that Comey lied under oath when asked by Sen. Chuck Grassley whether he had been, or was aware of anyone who had been, an anonymous source for the media. There has been speculation that Comey was aware of the reportedly unauthorized disclosure to the media that prompted McCabe's firing, Politico noted.
"Wow, watch Comey lie under oath to Senator G when asked 'have you ever been an anonymous source...or known someone else to be an anonymous source ... ?'" Trump tweeted Sunday. "He said strongly 'never, no.' He lied as shown clearly on @foxandfriends."
The aftermath of McCabe's firing has fueled speculation that the president may attempt to fire special counsel Robert Mueller. On Saturday, Trump lawyer John Dowd wrote in an email to the Daily Beast: "I pray that Acting Attorney General Rosenstein will follow the brilliant and courageous example of the FBI Office of Professional Responsibility and Attorney General Jeff Sessions and bring an end to alleged Russia Collusion investigation manufactured by McCabe's boss James Comey based upon a fraudulent and corrupt Dossier."
Adding fire to the theory, Trump also turned his attention to Mueller's investigation Sunday, following a Saturday tweet in which he said the probe "should never have been started" and once again called it a "witch hunt."
"Why does the Mueller team have 13 hardened Democrats, some big Crooked Hillary supporters, and Zero Republicans? Another Dem recently added ... does anyone think this is fair? And yet, there is NO COLLUSION!" Trump tweeted Sunday.
Members of Mueller's legal team have given political donations to Democrats, which has been a source of contention for those opposed to the Mueller probe. Several lawyers on the team also have Clinton ties; lawyer Jeannie Rhee represented the Clinton Foundation during a 2015 racketeering lawsuit, and lawyer Aaron Zebley, who previously served as Mueller's chief of staff at the FBI, once represented Clinton aide Justin Cooper.
Trump's claim that there are "zero Republicans" on the team, however, is false, as Mueller, who was appointed to FBI director by President George W. Bush, is himself a Republican.