Sen. Rand Paul says he'll oppose Gina Haspel's nomination despite retracted torture charge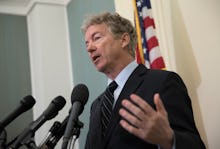 Sen. Rand Paul (R-K.Y.) has become one of the most outspoken critics of President Donald Trump's nomination of Gina Haspel to be the next CIA director — a stance he continued Sunday, even after the most damning charges against Haspel were revoked.
In an interview Sunday on CNN's State of the Union, Paul said that he would do "whatever it takes, including filibuster" to oppose the nominations of Haspel and Mike Pompeo, whom Trump has nominated as secretary of state. Haspel, who currently serves as the CIA's deputy director, has been criticized for her role concerning the torture of detainees at a Thailand prison that she formerly oversaw.
"I think that what America stands for is not torture, you know, torture is the hallmark of totalitarianism. We should be that hope for the rest of the world that people who want to resist totalitarianism that they want to be free from torture, they don't want to be free to torture," Paul said Sunday.
"I really think that it's inappropriate to put someone as the head of the CIA — they have so much power, power to assassinate, power to spy, power to collect all the data on everyone in the world," Paul continued. "I don't think the person running that agency should be someone who ran a secret prison in Thailand."
Haspel took part in the CIA's now-banned torture program in her role at the Thailand detention facility, where the New York Times reported she oversaw the "brutal interrogation" of terrorism suspect Abd al-Rahim al-Nashiri. She also helped to later destroy tapes documenting the torture of suspect Abu Zubaydah, who was reportedly waterboarded 83 times in a single month, according to the Times.
Contrary to initial reports, however, Haspel did not play a role in the actual torture of Zubaydah. ProPublica retracted a report tying Haspel to Zubaydah's torture Thursday, clarifying that she took over the Thailand facility after Zubaydah's waterboarding had ended in 2002.
Paul cited the original ProPublica report in his initial news conference condemning Haspel's nomination, Politico noted, but has remained committed to his criticism of Haspel even in the wake of the retraction.
"Senator Rand Paul was quoting a Pulitzer-Prize winning reporter. Regardless of the retraction of one anecdote, the fact remains that Gina Haspel was instrumental in running a place where people were tortured. According to multiple published, undisputed accounts, she oversaw a black site and she further destroyed evidence of torture. This should preclude her from ever running the CIA," Doug Stafford, Paul's chief strategist, told Politico.
On Sunday, Paul continued his stance, maintaining that he will "try to make a point to the American people" with his opposition to Haspel.
"I will try to make a point to the American people, and maybe the American people will rise up and say, 'We stand in solidarity with those who seek freedom from torture, not the freedom to torture,'" Paul said Sunday. "It's just inconsistent with who we are as a people to have someone run our spy agency that has all this enormous power who was intimately involved with torture, and from everything we're reading was supportive of the policy, and so no, I can't support that."
Paul also maintained his opposition to Pompeo's nomination, pointing to the potential secretary of state as an advocate of "regime change" over diplomacy.
"I don't think you really want people who are eager for war to be running the State Department, you want a diplomat. I frankly think that Pompeo's positions are too much of an advocate for regime change really everywhere — North Korea, Iran, Russia, you name it," Paul said. "And I think really we need to see the world as it is, doesn't mean we need to support what happens everywhere in the world, but I don't think our policy should be for regime change, so I think Pompeo really isn't a good fit to be a diplomat, or to be the chief diplomat."
The Kentucky senator's opposition to Haspel could have an effect on her confirmation in the Senate, where Republicans have only a slim majority. In addition to Paul, Republican Sens. John McCain and Lindsey Graham have also come out against Haspel's involvement with torture, taking part in a news conference in which McCain called the CIA's torture program "a stain on America's honor."
"The torture of detainees in U.S. custody during the last decade was one of the darkest chapters in American history. Ms. Haspel needs to explain the nature and extent of her involvement in the CIA's interrogation program during the confirmation process," McCain said in a statement quoted by CNN.
On Sunday, however, Graham said in a CNN interview that Paul was an "outlier" in the Republican party in his opposition to Haspel and Pompeo, going on to praise Haspel as "highly qualified" while expressing that she needs to clarify her current positions on torture before she can be confirmed.
"At the time, the Bush administration viewed [waterboarding] as an authorized interrogation technique," Graham said, noting that the practice is now illegal. "I'm looking for [Haspel] to acknowledge that this behavior is no longer allowed, and she will adhere to the law as it exists. She, again, is very highly qualified ... she's excellent at what she does, but she will have to adhere to the law as I believe it exists today, and that will be the test for me."