Progressive challenger in Michigan governor's race is running to the left on gun control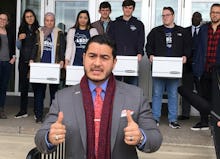 More than a month after the deadly school shooting in Parkland, Florida, momentum continues to build for stronger gun safety laws.
As the national outcry for stricter gun control marches on in the wake of the Parkland shooting, one Democratic candidate for governor is challenging members of his own party to take a more forceful stance.
Abdul El-Sayed, the 33-year-old progressive running in the Democratic primary to become Michigan's next governor — and potentially America's first ever Muslim governor — is publicly calling out his primary opponent in a new ad.
The ad features a clip of Parkland shooting survivor Emma Gonzalez giving an impassioned speech in support of gun reform, followed by a direct call for El-Sayed's primary opponent, former-state Senator Gretchen Whitmer, to take a stronger stance actively supporting an assault weapon ban in Michigan.
A spokesperson for El-Sayed's campaign says they plan to spend significant resources to run the ad online as part of targeted social media strategy.
"This is about doing what's right," El-Sayed said in a statement. "I'm ready to act. To me, that means banning assault weapons, closing background check loopholes, stopping domestic abusers from getting a gun and disarming people who should not have a gun, regulating the concealed carry permit process and prohibiting 'open carry' on public property."
"But some, even Democrats, are more accommodating of the NRA's positions — and that's unacceptable. We need action, and now," he added.
Though there isn't much public polling on the primary race, Whitmer is largely considered to be the frontrunner to be the Democratic candidate. El-Sayed is also facing a tough challenge from the largely self-funded candidacy of Ann Arbor businessman Shri Thanedar, whose campaign told Mic in a statement that he also supports an assault weapons ban.
El-Sayed's campaign is focused squarely on Whitmer, claiming she has yet to take a forceful public stance on the issue during the campaign. However, Whitmer's past statements suggests she may not be opposed to an assault weapons ban.
A spokesperson for Whitmer's campaign pointed to a 2012 Huffington Post op-ed penned by Whitmer, in which she calls for "enacting the common sense reforms that keep assault rifles, weapons designed for the sole purpose of mass killings, off the market."
However, members of El-Sayed's campaign claim Whitmer has yet to make an assault weapons ban for Michigan a concrete part of her campaign platform.
"Let's be real here — Gretchen Whitmer is trying to avoid taking a stance because her campaign consultants are poll-testing her talking points on this. But, in 2018, there is no room for Democrats to allow poll results to dictate policy," El-Sayed's communications director Adam Joseph said in an emailed statement. "It's time to do the right thing."
Though support for stricter gun laws is common among Democrats, it has rarely been a central part of Democratic primary campaigns — especially in swing states like Michigan, where Donald Trump narrowly bested Hillary Clinton in the 2016 election.
However, after the Parkland shooting, Democrats have started to emphasize their support for gun control, even in conservative territory.
Democratic candidate Randy "Ironstache" Bryce, who is running to try and unseat House Speaker Paul Ryan in Wisconsin's 1st congressional district, tweeted his support for an array of gun safety policies, including an assault weapons ban after the Parkland shooting.
Elsewhere, Jason Crow, a Democratic candidate running to unseat conservative five-term incumbent Republican Rep. Mike Coffman in Colorado's 6th congressional district, has called on his opponent to return all of the campaign contributions he has received from the National Rifle Association.
It's not clear yet, whether or not this outspoken support for gun safety legislation will have an effect on this year's Democratic primaries or the November midterm election itself. What is quickly becoming clear is that 2018 is going to be a year where gun control features a lot more prominently as a campaign issue than ever before.