Lindsey Graham says Trump firing Mueller would be "the beginning of the end of his presidency"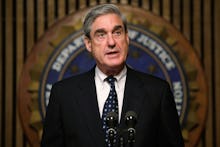 The aftermath of FBI Deputy Director Andrew McCabe's firing has fueled speculation that President Donald Trump will seek to end special counsel Robert Mueller's investigation into potential collusion between Russia and the Trump campaign — and some of Trump's Republican colleagues are speaking out.
Trump ramped up his attacks against the Mueller investigation over the weekend, tweeting Saturday that the investigation was a "witch hunt" that "should never have been started" and attacked Mueller's team for having Democrats and "zero Republicans" — a false claim, as Mueller is himself a Republican — in a tweet Sunday.
On Saturday, Trump's lawyer John Dowd advocated for the investigation's conclusion in a comment to the Daily Beast, saying that he hoped Deputy Attorney General Rod Rosenstein would follow Attorney General Jeff Sessions' example in firing McCabe by "bring[ing] an end to alleged Russia Collusion investigation manufactured by McCabe's boss James Comey based upon a fraudulent and corrupt Dossier."
Some of the president's Republican colleagues, however, are not backing up Dowd's opinion. On Sunday, Sen. Lindsey Graham opposed Mueller's potential firing in an interview on CNN's State of the Union, warning that the move could have dire consequences for Trump's presidency.
"As I said before, if he tried to do that, that would be the beginning of the end of his presidency," Graham said Sunday about the possibility of Trump firing Mueller.
"The only reason that Mr. Mueller could be dismissed is for cause. I see no cause when it comes to Mr. Mueller," Graham said, adding, "I pledge to the American people, as a Republican, to make sure that Mr. Mueller can continue to do his job without any interference."
Graham, who has reportedly become a friend to Trump and advocate for his policies, added Sunday that there are "many Republicans that share [his] view" that Mueller "be allowed to do his job without interference."
That claim echoed earlier comments on State of the Union by Sen. Jeff Flake (R-Ariz.). Though Flake has been a frequent critic of the president, the senator said Sunday that he expected "pushback" when it came to his Republican colleagues who have been more supportive of Trump's presidency.
"I don't know what the designs are on Mueller, but it seems to be building toward that, and I just hope it doesn't go there, because it can't. We can't in Congress accept that," Flake said Sunday. "So I would expect to see considerable pushback in the next couple of days urging the president not to go there. He can't go there."
"I don't know why you expect to see pushback, to be honest," CNN host Jake Tapper countered. "I've been watching Congress for the past year now, and ... I haven't really seen a lot of pushback from Republicans. Do you really think that Mitch McConnell and Paul Ryan will stand up and say 'Mr. President, you can't do this?'"
"I hope so," Flake responded. "I've been talking to my colleagues all along, and it was, 'Once he goes after Mueller, we'll take action.' I think that people see that as a massive red line that can't be crossed. So, I hope that's the case."
That pushback seemingly began Sunday, as other Republicans defended Mueller's investigation. In addition to Graham and Flake, Sen. Marco Rubio expressed his confidence in Mueller during an appearance on Meet the Press, saying, "I remain confident that the special counsel ... is going to conduct a probe that is fair and thorough and is gonna arrive at the truth and is not going to go down rabbit holes that are not places that we need to be going."
Trump's potential decision to fire Mueller was condemned more strongly by Rep. Trey Gowdy, who said in an interview on Fox News Sunday about Dowd's comment: "If you have an innocent client, Mr. Dowd, act like it."
"If the allegation is collusion with the Russians, and there is no evidence of that, and you are innocent of that, act like it," Gowdy said in response to Trump's comments decrying Mueller's investigation, adding, "If you've done nothing wrong, you should want the investigation to be as fulsome and thorough as possible."