Petition calls for 'The Crown' actor Matt Smith to donate part of his salary to #TimesUp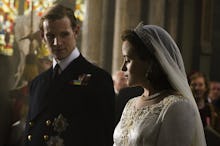 "You know gender pay gaps are a problem when even the queen isn't paid fairly."
That's the message at the top of a new online petition calling for Matt Smith, an actor on Netflix's original period drama The Crown, to donate a portion of his salary to the Time's Up Legal Defense Fund, an initiative started to fight gender inequity and support victims of sexual harassment and abuse.
According to the petition's description, it was inspired by comments made at a recent panel at the INTV Conference in Jerusalem. There, The Crown's producers admitted Smith — who previously starred on Doctor Who — was making more than Claire Foy, who stars on The Crown as Queen Elizabeth II.
At the conference, the producers said Smith, who plays Prince Philip, commanded a higher salary because he was more well-known at the time, but they promised that would change for the show's future seasons.
"Going forward, no one gets paid more than the queen," creative director Suzanne Mackie said, according to Variety.
As of Monday morning, the petition calling for Smith to donate a portion of his salary had more than 22,000 signatures, just a sliver from its ultimate goal of 25,000.
This is just the most recent example of high-profile gender inequity in Hollywood. In January, USA Today reported Mark Wahlberg negotiated a $1.5 million payment for reshoots on All the Money in the World. His co-star, Michelle Williams, largely volunteered her time, earning just about $1,000 in per diem fees. Following public pressure, Wahlberg donated $1.5 million to Time's Up in Williams's name, according to Variety.