Trump to detail new opioid plan as report emerges that money to fight crisis went unspent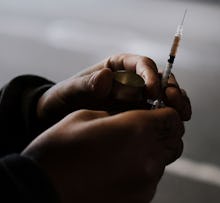 President Donald Trump is set to outline his administration's new plan to combat the opioid crisis on Monday, including a provision that calls for the Department of Justice to seek the death penalty against some drug traffickers.
"The Department of Justice will seek the death penalty against drug traffickers when it's appropriate under current law," Andrew Bremberg, director of the White House Domestic Policy Council, told reporters on a Sunday phone call, according to CNN.
Bremberg told reporters that the death penalty would likely be brought against those who traffic large quantities of dangerous drugs like fentanyl.
Trump will also announce details about how his administration wants the $6 billion in funding Congress appropriated to try and end the opioid epidemic to be spent.
However, that news comes amid a Politico report that says more than 75% of the $500 million in funding already allocated to states to fight the opioid crisis has gone unspent. The $500 million in funding is part of a two-year, $1 billion allocation laid out in the 21st Century Cures Act, which was signed by former President Barack Obama before he left office.
Because the funding had an expiration date, states were unable to find health care companies to create programs that might not be funded past that two-year deadline, Politico reported.
Trump is set to deliver his speech on opioids Monday afternoon in New Hampshire, a state hit particularly hard by the opioid crisis.