Why Tuesday's Illinois primary spells trouble for grassroots progressives in the midterms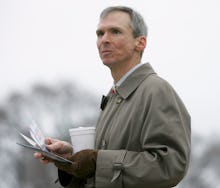 Progressives across the country are in a troubling moment after Democratic Rep. Dan Lipinski on Tuesday defeated Marie Newman, a progressive businesswoman, in the race to be the party's candidate for Illinois's 3rd Congressional District.
The race had been viewed by many as not only the first major test of the left's ability to best their Republican opponents in 2018, but also to clean house within the Democratic Party and take on incumbents not believed to be sufficiently progressive.
However, Lipinski was just the tip of the iceberg. Tuesday's primary was, by and large, a victory for the Democratic establishment — one that will force others on the left to do some soul-searching as primary season officially begins.
Low hanging fruit are still out of reach
Lipinski's victory illustrate the major uphill battle that progressives face trying to oust potentially vulnerable incumbent Democrats. That's because Lipinski was by far the easiest Democratic target to choose from in this election year.
Lipinski voted against the Affordable Care Act, opposes funding Planned Parenthood, supports a constitutional amendment to ban same-sex marriage and wants to ensure it's harder for Syrian refugees to enter the country. He also opposed former President Barack Obama's re-election campaign in 2012, despite running for re-election in Obama's home state of Illinois.
His positions are so out of step with mainstream Democrats that multiple members of the Illinois congressional delegation endorsed Newman.
And it's not as though Lipinski's district is particularly conservative. Voters there chose Hillary Clinton over Donald Trump in 2016 by more than 15 percentage points, and voted for Barack Obama by similar margins in both 2008 and 2012. Republicans didn't even manage to field a legitimate challenger to Lipinski in 2018, instead allowing a perennial Nazi troll to become their candidate by default.
All these factors help explain why Lipinski was even vulnerable enough to come within two percentage points of losing his place on the ballot to Newman. But the fact that a Democrat with such conservative politics in a safe Democratic district is a bad sign for anyone hoping to shift American politics left in 2018.
Outside Illinois's 3rd Congressional District, progressive victories were also nowhere to be found
The race to challenge Republican Gov. Bruce Rauner saw a decisive victory for establishment billionaire J.B. Pritzker over businessman Chris Kennedy and progressive state Sen. Daniel Biss.
Pritzker is the brother of former Commerce Secretary Penny Pritzker and an heir to the Hyatt hotel enterprise. His family has donated considerably to Democratic campaigns in the past, and many progressives in the state saw Pritzker as a symbol of an establishment co-opted by wealthy business — so much so that Kennedy, a member of the famous political dynasty, was considered an outsider in Pritzker's shadow.
During the campaign, Pritzker was discovered to have been involved in one of the state's most notorious political scandals — the attempt by former Gov. Rod Blagojevich to sell the U.S. Senate seat once occupied by Obama.
Never-before-heard phone calls recorded by federal agents investigating Blagojevich showed that Pritzker had been solicited by Blagojevich as a potential buyer for the seat. Pritzker instead asked to be appointed state treasurer in a conversation that also included discussion of potential campaign contributions for Blagojevich, the Chicago Tribune reported in May.
Biss had been the progressive favorite going into the race, but despite grassroots enthusiasm and Pritzker's scandal, Biss' campaign made several missteps along the way. Most notable was Biss' decision to part ways with his running mate, progressive Chicago Alderman Carlos Ramirez-Rosa. The departure came over the alderman's association with the Democratic Socialists of America and the group's support for boycotting the state of Israel.
In the end Kennedy and Biss spit the anti-Pritzker vote handing the billionaire an easy victory.
Now, Illinois Democrats will be facing off against an incumbent Republican governor with a damaged establishment candidate in Pritzker, whose only major selling point thus far has been his ability to self-finance his own campaign.
The progressives no one knew were running
In addition to Newman, several other progressives were challenging incumbent Democratic members of Congress across the state.
In Illinois' 7th Congressional District, public educator Anthony Clark challenged Democratic incumbent Rep. Danny Davis, who recently came under fire for failing to condemn notorious anti-Semite Louis Farrakhan.
But despite having the backing of national progressive groups like Justice Democrats, which supports progressive candidates in Democratic primaries, Clark failed to earn enough support in the district to oust Davis, who won the primary by nearly 50 percentage points.
In the state's 5th Congressional District, incumbent Democratic Rep. Mike Quigley was able to beat back a crowded field of Democratic challengers who split the vote amongst themselves. Nonprofit leader Sameena Mustafa, another candidate backed by Justice Democrats, failed to garner enough votes to pose a real challenge to Quigley.
Mustafa also competed for votes with another progressive challenger, former FBI agent Benjamin Thomas Wolf, who first gained national attention for appearing in an ad campaign while smoking marijuana. He also came under fire after allegations surfaced that he had abused women and lied about his military service.
Progressives failure to even compete in these races illustrate the challenges that they still face trying to create an upset within the Democratic party. In the wave Republican election of 2010, Tea Party activists were able to oust establishment candidates and incumbent Republicans in red states across the country like Utah, Kentucky and Alaska.
If progressives can't even beat a pro-life anti-LGBT Democrat in a safe blue Illinois district, its hard to see how they make inroads anywhere else within the party.