Kim Kardashian West criticized for lack of diversity in new concealer line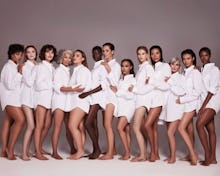 Since Fenty Beauty set the bar for inclusive makeup and beauty, a select few massive beauty brands have had a hard time keeping up. The latest example of this is Kim Kardashian West's KKW Beauty, which recently debuted a new line of concealer kits available for purchase Friday.
At first glance, the campaign is diverse, with models of different ages, sizes, heights and skin tones all lined up together to demonstrate the various types of women these 16 concealer kits — complete with liquid and powder formulas — match.
But with Fenty Beauty setting the example, some people think this KKW Beauty launch fell way short. That was made more obvious when the KKW Beauty Instagram page posted an image of model Mouna Fadiga wearing all 16 shades on her arm. There appeared to be far more super-light shades than dark shades that could feasibly match Fadiga's skin.
"Which color is the model in this pic supposed to wear?" one commenter wrote. Another: "There is no way [this] concealer matches this beautiful sista melatonin skin."
Fadiga addressed the backlash in the comments section of another KKW Instagram. "I am the dark black model," she wrote. "I can tell you that they did not [choose] me only to pretend. I had the makeup on and it fits perfectly [to] my skin color. I am not wearing any makeup usually, so I know when I have it on if it's good or not and here it was the case. I even [kept] it on me and went [to] have dinner [with] a friend."
KKW Beauty has run into this kind of criticism before. When the brand launched its contour kits, people thought the models were far too light-skinned for the shades advertised. And then there was that blackface controversy surrounding KKW Beauty's first product, which Kardashian West quickly apologized for.
Apart from KKW Beauty, plenty of other brands, including Tarte Beauty, have been slammed for not catering to people with darker skin tones. Apparently, Fenty Beauty served as a wakeup call to both the makeup industry and consumers, who are now consistently quick to call out brands they think are failing customers.