How gender nonconforming and nonbinary individuals are changing the beauty industry forever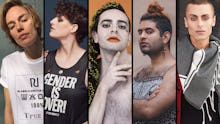 The makeup and beauty industry may be on the brink of a gender revolution. For years, it's been largely cisgender women who have been at the center of the beauty industry's gaze. That began to change in 2017, when cisgender men started making their way into major beauty campaigns like CoverGirl, L'Oréal, Maybelline and more.
Now 2018 is looking like the year when gender nonconforming and nonbinary individuals — who are hardly new to the beauty world — could finally get the mainstream beauty industry's attention and the representation they've long deserved.
We say this in light of Jacob Tobia, a writer, model, activist and all-around phenom, recently starring in their first major beauty campaign for the new beauty brand Fluide, which often casts gender nonconforming models and also donates a percentage of all profits to organizations that support health and legal rights in the LGBTQ community. 
"It was a 'duh' moment," Fluide co-founder Isabella Giancarlo said in an interview about Tobia's casting. "Gender nonconforming and nonbinary people have been with us in society forever, and the fact that they haven't been faces of beauty and campaigns is weird to us. The fact that we're one of the first feels like it's about freaking time."
Indeed. Long before this campaign, gender nonconforming and nonbinary individuals were involved in the makeup and beauty industries, featured in various campaigns. They just weren't as appreciated as they're starting to be now.
"Gender nonconforming and nonbinary people have always been behind the scenes in the beauty industry," Alok, a gender nonconforming writer and performer, said in an interview. "Our aesthetic genius has always been mined for the production of mainstream beauty industry. It's only now that our contributions are starting to become recognized and that our faces are starting to be on the cover."
Some recent recognition has gone to Madison Paige, who is gender fluid, modeling for Makeup For Ever; Rain Dove, who is gender fluid, starring in a campaign for Illamasqua; and artist and model Richie Shazam, who is queer and subverts the gender binary in his own art, starring in an Asos makeup campaign. All of these campaigns happened in 2017.
Their presences are important because it means, first and foremost, that other nonbinary and nonconforming people have someone to relate to in this influential industry.
"Marketing is such a powerful way to care for and celebrate people/bodies that are often targets of structural violence," Tobia said in an interview. "The more that brands place fat bodies, gender expansive bodies, hairy bodies, bodies of color, differently abled bodies and other structurally marginalized bodies on billboards and in the pages of fashion magazines, the sooner we will build a world that subjects people to less structural violence in the first place."
Just like size diversity and racial diversity are important for these reasons, gender diversity is too.
For Rain Dove, they knew their campaign for Illamasqua, which also starred transgender model Munroe Bergdorf, could be someone's beacon of hope.
"When you see a cosmetic campaign that has so much diversity, you're hoping people will go into a store, see these pictures in [the] store or on billboards or magazines and see that, 'Wow, these people are able to exist in public places,'" Dove said in an interview. "It's almost like being a beacon of hope, being like, we're here, it's not impossible."
"Beauty standards are what all people have to go off of," Cory Wade, a gender nonconforming musician, model and activist who appeared on America's Next Top Model, said in an interview. "Everybody's striving to meet this ideal image. It's paramount for nonbinary representation to be a part of that, because there are kids growing up struggling to come to grips with their own identity because the images they see are not where they fit. They spend their entire lives trying to fix themselves, and that's when body dysmorphia comes into play."
As it stands now, gender nonconforming and nonbinary individuals have largely found success in beauty campaigns with indie brands. But there's a well-trodden path to mainstream success from there. These models, bloggers and social media influencers get attention from indie brands first, and then the mainstream brands take notice. That's exactly what happened with male beauty bloggers in 2017: First they starred in ads for smaller brands, and then months later, brands like L'Oréal came calling.
"It's a two-part thing when a brand takes a chance on us," Dove said. "It's not just people using nonbinary or nonconforming individuals, but it's people buying products even though they're marketed by people not commonly seen. When the buying power is so high, that says that things are actually changing."
If a campaign starring a nonbinary or nonconforming person is a success, that signals to the bigger, more powerful companies that this is a community worth investing in. If someone like Tobia, Alok or Dove appeared in a CoverGirl commercial, for instance, it would mean the industry is finally coming to terms with who its customers really are. They don't exist on a strict binary of female and male. They're everyone. It'd be a hugely important cultural shift.
"Representation for us isn't superficial, it can be life-saving."
"We are constantly made to feel as if gender nonconformity is tragic, ugly or a failure," Alok said. "We grow up with little to no positive representation of our appearances and identities. We are constantly belittled and experience extreme rates of harassment, discrimination and violence. Representation for us isn't superficial, it can be life-saving. People need to know that we exist. We know that we are beautiful — the world just needs to catch up with us."
What needs to happen to get nonconforming and nonbinary people represented in an industry that has long looked to them for inspiration? The conversation around what being nonconforming or nonbinary means needs to continue — and it needs to reach the people who are making casting decisions for these companies and brands.
"A lot of who is in the marketing meetings are people [who] might not be as well-informed as to what gender nonconforming is," Elliott Sailors, a gender nonconforming model who's appeared in Elle, Harper's Bazaar and other magazines, said in an interview. "So if they don't understand what it means, then they're not going to know that it's missing. It's on us to continue to have these conversations so people get what it is and why it's critical for there to be representation."
If the conversation continues, then we're headed for a future where nonconforming or nonbinary people are involved in various areas of the creative process, and it's considered normal for them to be.
"I hope [the future] looks like actual gender nonconforming and nonbinary people being hired and involved at all levels — behind the camera and in front of it," Alok said. "I hope that especially trans-feminine people and people of color are centered in this. So often representation of gender nonconforming people is white, thin and masculine."
As Sailors said: "You're going to find a lip color you're after and you don't have to search so hard to feel like you exist inside that brand."