An Illinois Democrat may be the first member of Congress to lose re-election in 2018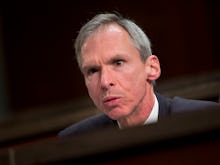 After Illinois voters head to the polls for the state's primaries on Tuesday, Rep. Dan Lipinski (D-Ill.) may become the first member of Congress to lose re-election in 2018.
Lipinski — a "blue dog" Democrat with a conservative voting record who is anti-abortion, anti-LGBT, anti-$15 minimum wage and voted against the Affordable Care Act in 2010 — is facing a primary challenge from fellow Democrat Marie Newman.
At surface level, the race is symbolic of the schism between the Democratic Party and the progressive wing rallying against "establishment" force. However, the Lipinski race doesn't perfectly fit into that narrative.
Lipinski's fellow Illinois Democratic Reps. Luis Gutiérrez and Jan Schakowsky endorsed Marie Newman earlier this year, as did rising Democrat star Sen. Kirsten Gillibrand (D-N.Y.).
Additionally, Newman picked up the endorsement of NARAL Pro-Choice America, EMILY's List — both of whom endorsed Hillary Clinton in the 2016 presidential primary. She also received the endorsement of the Service Employees International Union — an interest group in the Democratic coalition that spends big on Democratic candidates in federal elections.
Meanwhile, top aides to former President Barack Obama have waded into the race, bashing Lipinski for using a mailer featuring the former president in an attempt to use Obama to carry himself to victory. Lipinski refused to endorse Obama for his re-election bid in 2012.
"It's not like the two so-called [Democratic party] wings are lining up contrary to each other," Tom Bowen, an Illinois Democratic strategist, told Mic in an interview. "Nobody in the delegation cares to defend him, and there's been simmering hostility in the delegation since he's been here."
Some Illinois Democrats say Lipinski didn't take the race seriously until the final weeks of the race. He spent just over $400,000 from Jan. 1 through Feb. 28, and sat on a $1.3 million campaign fund, according to data from the Federal Election Commission.
Meanwhile, pro-Newman and anti-Lipinski groups planned to spend $1.6 million on the race, according to NBC News.
Little public polling exists in the race, so it's unclear where favor truly stands. A Public Policy Polling survey for NARAL released March 5 showed Lipinski leading Newman, 43% to 41%, with 15% undecided.
Bowen said Lipinski, who took over the seat from his father, Bill Lipinski, in 2004, say Lipinski's familiar name in the district may not be enough to carry him to victory this time around.
"His biggest problem is that turnout is not going to be so overwhelmingly skyrocketed that his name ID will carry him," Bowen said. "Low-turnout elections bring high-information voters that can change their mind."
Whoever wins the primary on Tuesday is likely to be the member of Congress for this district — which includes part of Chicago proper, as well as the city's suburbs.
The district has steadily gotten more Democratic.
Obama — a Chicago native — won the district by an 18-point margin in 2008. Four years later, in 2012, he carried it by a 14-point spread, while Hillary Clinton increased the margin even further, winning this seat by 15 points in 2016.