Senators are calling for Mark Zuckerberg to testify amid Cambridge Analytica scandal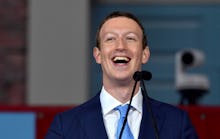 A bipartisan duo of senators is calling for Facebook CEO Mark Zuckerberg to testify before Congress, after damning reports surfaced Saturday that a political data organization deeply tied to disgraced former Trump strategist Steve Bannon inappropriately mined Facebook data to influence the 2016 election.
According to Reuters, Democratic Sen. Amy Klobuchar of Minnesota and Republican Sen. John Kennedy of Louisiana sent a joint letter to Senate Judiciary Committee Chairman Chuck Grassley (R-Iowa) to demand a hearing with Zuckerberg. The letter also called for testimony from top executives at Google and Twitter — both of which also came under fire for falling victim to Russia's election meddling in 2016.
"This is a major breach that must be investigated," Klobuchar tweeted on Saturday when the joint investigation by the U.K. newspaper the Observer and the New York Times about Cambridge Analytica's inappropriate use of Facebook broke. "It's clear these platforms can't police themselves. I've called for more transparency and accountability for online political ads. They say 'Trust us.' Mark Zuckerberg needs to testify before Senate judiciary."
On Saturday, the two news outlets published a report outlining how the data firm mined private information from more than 50 million Facebook users, and how the social media giant did not alert users who had been impacted.
Facebook's failure to inform users that their data had been collected may break laws in both the United States and the United Kingdom The U.K. is in the midst of an investigation as to whether Russia meddled in its Brexit vote in 2016.
The reports on Cambridge Analytica's inappropriate use of Facebook caused Facebook's stock to plummet Monday morning. It had fallen roughly 7% at the time this article was published.