'RuPaul's Drag Race' season 10: Ranking the queens' entrance looks from worst to best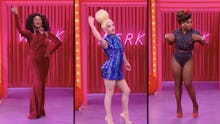 We're all still reeling from the finale of All Stars 3, and mother Ru still won't let us rest. Not only is the 10th season of RuPaul's Drag Race set to debut on Thursday, just one week after the curtain fell on All Stars 3, but VH1 has already posted the first 15 minutes of the season premiere online — which means you don't have to wait to see every queen's workroom entrance look in action.
A queen's first walk into the workroom — or "werk room" if you're feeling fancy — has always been a performance unto itself: It's an opportunity to communicate who you are to your audience with a single look.
And even though this season's promos want to convince you it'll be "10s, 10s, 10s across the board," that certainly doesn't seem to be the case thus far. Case in point: We've ranked every queen's entrance look from worst to best, complete with analysis and a rating out of 10. Let's go.
The Vixen
As RuPaul once said to season five contestant Jade Jolie: "May I give you a word of advice? Edit."
Rating: 4/10
Blair St. Clair
Blair's hair is on-point and her cheekbones are highlighted for the gods, but the rest looks like something you could pick up at your local Express. I get that she's going for an innocent, fresh-off-the-train-from-Smalltown, USA, vibe, but I need a little more.
Rating: 5.1/10
Asia O'Hara
Asia's known for being a pageant queen, so I can't help but feel like this first look is too safe and simple.
Not only is the dress rather plain — though the gold detailing helps elevate it a bit — but her ombré bob is too far on the soccer mom end of the style spectrum and not serving quite enough glam for a queen's primetime debut.
Rating: 5.8/10
Dusty Ray Bottoms
All right, here we have a queen whose body, from the neck upward, is completely at odds with what's going down below. Dusty's known for her spotted face, making her look like she's suffering from some mysterious ailment. It combines beautifully here with her cartoonish bow and manic, teased-out wig.
And then she throws on a ripped, white T-shirt.
Rating: 6.5/10
Eureka O'Hara
Eureka has always had a flair for the dramatic, and this look is no exception. She's serving cheeky, Macy's Thanksgiving Day Parade realness here — but instead of a turkey, she's dressed as a phoenix, rising from the ashes of season nine, in which she originally appeared.
It's gaudy as all get out, but hey, that's Eureka.
Rating: 7.3/10
Kalorie Karbdashian Williams
This look, like Blair's, gives the impression of a collection of ready-to-wear pieces rather than something couture — but here, it works more effectively. Kalorie is a self-described "twerk" queen, and this communicates that clearly. And I simply can't turn down a denim boot.
Rating: 7.6/10
Kameron Michaels
The way Kameron contrasts the floral print on her dress with her aggressively masculine, tattooed biceps is really compelling. Like Blair, the clothing itself is a little more ready-to-wear than what we typically envision for Drag Race, but Kameron does a better job here of creating a more cohesive character overall.
Rating: 7.8/10
Monique Heart
Monique's entrance choreography is a little try-hard, but the look itself is great. The glittery two-piece body suit moves like a dream, and it ties together perfectly with her streaky, gold makeup. It's a confident, glamorous look that still leaves room for her to blow us away later.
Rating: 7.9/10
Monét X Change
Here it is, folks: Our very first wardrobe reveal of the season. When Monét first emerges from backstage, she's wearing a plain, full-length body suit, pushing a large broom across the floor. But then she tears it away to reveal this much flirtier, navy number with red pops of color.
It's still a simple body suit, but the accessorizing, the drama of the reveal and the Rosie the Riveter vibes are enough to make this a toot.
Rating: 8.1/10
Vanessa Vanjie Mateo
Applying a geometric, dress form-inspired shell on the outside of an outfit is a fun, ambitious idea, but the bottom half of this look seems a little unfinished. Some kind of skirt filling the space beneath shell would really finish this baby off. Props for the plum lip, though.
Rating: 8.4/10
Miz Cracker
Oh, Miz Cracker. I think — hope? — she's going to be one to watch, folks.
This first look of hers is great: The bleached-blonde hair with the geometric, metallic blue cocktail dress is reminiscent of "Just Dance"-era Lady Gaga, and I am here for it.
Cracker's makeup is a little dusty and rough around the edges here, particularly in her cheek and chin contouring, but it's not clear yet whether it'll be a problem later on.
Rating: 8.8/10
Mayhem Miller
Though Mayhem herself is more of a nightclub gal, this look is straight-up pageant eleganza. In fact, her perfectly tailored red gown is a bit reminiscent of Kennedy Davenport's "Red for Filth" runway look from All Stars 3.
This look is stunning. Not much bad to say here, except that it's a little lacking in that inventive, wacky "X" factor.
Rating: 8.8/10
Yuhua Hamasaki
Yuhua came off a little too abrasively for my tastes in her promotional interview with season nine winner Sasha Velour, but this look has won me back over — for now.
In addition to drag, Yuhua works as a seamstress, and it shows. The craftsmanship is really what sells this one: Her gold, glittery eyebrows — combined with the floral details and hyper-dramatic, almost violent hair pins — are stellar.
Rating: 9.1/10
Aquaria
As much as I want to resist the hype surrounding miss Aquaria, I can't help but admit how much of a lewk this is. If the first 15 minutes of the premiere are anything to go by, Aquaria is going to be this season's Violet Chachki — she'll be serving artsy, fashion-forward looks, but her ego might grow tiresome rather quickly.
But so far, I'm on board.
Rating: 9.3/10
RuPaul's Drag Race season 10 premieres on VH1 at 8 p.m. on Thursday.