Meet Farren Fucci, the super-stylist who won over Rihanna and is showing the fashion world what's up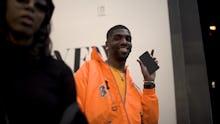 You know stylist Farren Fucci's work when you see it. With a signature style that's a little bit streetwear, a little bit goth-y, a little bit punk and little bit dominatrix-y, his work is always totally original.
With star-making turns styling Rihanna for a Paper cover and spread, which had her posted up in a bodega with bright green and purple 'dos, as well as Bella Hadid for Paper, which had her nearly unrecognizable, looking like a vampire with green lips and bleached hair, he's become one of the most in-demand stylists in the industry.
Mic recently caught up with him in before his debut at New York Fashion Week show for Flying Solo to talk his career, Rihanna and his inspirations, which first and foremost include his mom.
"She's like one of those ladies that has her long nails and always wears heels even when she's going to the grocery store even to this day," Fucci said in describing his mother. "She always got her hair done like every week, nails done every week. She was my introduction into fashion, which is why I'm so much into womenswear because I was raised with all women so that's all you hear about is clothes and boys. That's probably why I'm gay and like clothes."
When it comes to clothes, Fucci is into a kind of look or aesthetic that he's actually come up with his own name for: Hoesthetics.
"Hoesthetics isn't a look, it's an attitude," Fucci said. "Women could be wearing sweatpants and she could be into hoesthetics. It's more so 'I'm in sweatpants but my nails are done, my hair is done, I'm beeped. Look at me. I'm looking good as fuck. Yeah, I look like somebody you want to fuck.' So, hoesthetics."
The look was crafted by Fucci as a response to the misogyny he noticed growing up. "The men who were in my life I felt like, besides my grandfather, that were around were being misogynistic men," Fucci said. "My mom was in a domestic violent relationship. He asked her one time, she had some pants that were really tight, my mom has a big butt, and he was like, 'Oh you can't wear those. They are too tight. I don't want men looking at you.' That annoyed me even when I was 11 years old. That's annoying, like, she should wear what she wants."
That's a mindset that's continued as he styles famous women now. It can be empowering to have women wear exactly what they want, and dress as sexy as they want, regardless of how men may feel about it.
"When it came to fashion I feel like it's liberating women because sex is such a thing that men act like they are the only ones who can rule," Fucci said. "Women have egos, too. Women like to smash and pass, too. Not every woman gets emotional over every man she has sex with. You don't have to worry about her having baggage from every man she's ever had sex with, because sometimes they don't care. And I feel like that's something I use in my brand also."
Now as far as Rihanna, that relationship started on Twitter, the platform where Rihanna is known for not only consistently relatable quips but engaging directly with fans.
"I was just a fan but I was like one of those fans who was like, 'I am going to be her friend one day,'" Fucci said. "So I am going to make sure that I am not going to be up in her business. She was on Twitter following people and I was like, you follow all these people, I am like a diehard, argue-with-you-in-my-classroom-type of fan so I feel like I deserve a follow and I am dope. I could really feel like give you some dope ideas. Then she followed me that day."
"She DM'd me first and I was one of her favorite pages," Fucci continued. "Around the same time that I was about to DM her. I was like 'wow, that's freaking crazy. I was two seconds away from DM'ing you first.'"
And what that instant friendship led to eventually was Fucci meeting Rihanna in-person, which actually began with a little white lie. One day, Rihanna told Fucci that she wanted a T-shirt he had posted online, to which Fucci said of course, let's meet up in New York. The only problem was that he wasn't in New York at the time — he was in Atlanta.
"What's funny is when I gave Rihanna that shirt I told her I was in New York already because I felt like if I didn't tell her I was in New York she would have been like, 'Oh OK never mind,'" Fucci said. "She was like, 'Yeah, I want that shirt how can I get that.' I said, 'I'm in New York. I can bring it to you.' I was in Atlanta. She was like, 'Yeah bring it to me. Are you going to be here this weekend? We can hang out or whatever.' I was like, 'Yeah I'm going to bring it to you. I'm going to give it to you tomorrow.'"
And then Fucci got on a flight to meet Rihanna. We mean, really, wouldn't you do the same?
That flight ended up being more than worth it, too, because not only did that meeting launch a real friendship between the two, but it also led to Fucci getting booked to style Rihanna's now-iconic turn in Paper.
"She's still that bitch to me," Fucci said. "It makes me feel better when somebody says something because now I'm like, 'Okay, don't fuck with my friend now.' Before it was like, 'Don't talk about Rihanna,' 'Do you even know her?' 'No.' Now it's, 'Don't talk about Rihanna.' 'Do you even know her?' 'Yeah I sure do.'"
As far as his own success thus far as a stylist, Fucci says it's all about paying attention to what's going on in pop culture at any given second.
"You have to know what people are doing," Fucci said. "You have to watch them and what they are interested in and social media gives you a direct contact to your clients, or not your clients, but your customers, your consumers. Interact with them. Play, test and see what people respond to more and what they are responding to more, do that more."
With plenty of career ahead of him, Fucci has his sights set on, well, everything. The future is his. "I want to be like Karl Lagerfeld," Fucci said. "I want to do film. I want to do fashion. Actually I want to do music, too, so I just want to do everything. I just want to be like an enigma in the history of people."