From "legendary" to "wack": We asked a bunch of people what they think of Banksy's new mural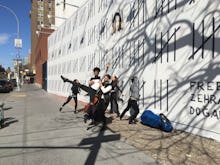 On a chilly, clear Monday morning at the corner of Houston Street and the Bowery in the neighborhood of SoHo, New York City, locals and tourists alike paused as they passed a dramatic new mural by Banksy, the British graffiti artist who's kept his identity a secret for decades.
The mural, done almost entirely in black and white, pays tribute to Turkish artist and journalist Zehra Dogan, who was arrested in 2016 and imprisoned for her painting depicting Nusaybin, a Kurdish city that had been partially destroyed in 2015 amid fighting between the Turkish military and Kurdish militants, as the New York Times reported.
Unveiled Thursday, Banksy's mural bears the message "Free Zehra Dogan" at its bottom right corner, clearly visible to anyone walking by. The mural shows black lines symbolizing both the bars imprisoning Dogan and tally marks counting the days she's been locked up. Dogan is also pictured, looking through the black lines and holding a pencil in one hand. On Thursday night, an image of the painting for which Dogan was imprisoned was projected above the mural.
A small, rotating handful of curious onlookers and devoted Banksy fans gathered in front of the 70-foot-long mural Monday morning, taking pictures with their smartphones. Some had followed Dogan's case for years; others knew of Banksy but not the subject of his latest work. One woman said all she had learned on the news about the new mural was that it had already been tagged with red spray paint by Sunday night.
Patricia Stroiescu, a 26-year-old tourist visiting New York City from the Netherlands, had gone out of her way to see the new Banksy mural in person. "I think it gives the right message," she said in an interview. "How artists can protest through their art." That message is of particular interest to Stroiescu, who said she was studying to be an intellectual property lawyer in Amsterdam. She said she became interested in law because she wanted to be "a lawyer for artists."
Thirty-year-old Jensen Esteves, a resident of New York City who works as a nurse, briefly paused on his bicycle as he was riding by the new mural Monday. Esteves and a companion were at the beginning of a four-hour bike ride from Brooklyn to New Jersey.
Esteves said he learned about the mural online a few days ago but wanted to make sure he saw it in person, especially considering his past connection with the elusive graffiti artist. "We used to live in Bushwick," Esteves said, in a building on which Banksy had spray-painted one of his distinctive stencils.
The site of Banksy's mural supporting Dogan, officially called the Houston Bowery Wall, has been home to multiple murals, including one by Keith Haring in the late 1970s. In a statement to Mic, Jessica Goldman, CEO of Goldman Properties, which curates the wall space, said, "We are proud that Banksy chose New York — and the Houston Bowery wall — to share this message. We stand alongside every artist who chooses to use his or her creative abilities to highlight human rights issues."
This installation, done in collaboration with American graffiti artist Borf (aka John Tsombikos), was one of two Banksy works revealed in New York City in the past week, the Times reported. The other was a small image of a rat running inside the face of a clock, painted on a former bank building at the corner of 14th Street and Sixth Avenue.
For Erin Pieraccini, 30, and Justine Fialka, 29, who were visiting New York City on a birthday trip from Scotland, getting to see Banksy's work in person was an unexpected treat. "I love Banksy," Fialka said in an interview.
Fialka's father had sent her a news story about the new installation, after which she and Pieraccini went to SoHo to check out the mural in person. Fialka said she liked Banksy's "dark sense of humor" combined with "the seriousness of his message."
"We need more of that," Fialka said.
At one point, a crew of dancers and musicians showed up and began to set up for a performance in front of the work. They identified themselves to Mic as the Nai-Ni Chen Dance Company and the Ahn Trio, two New York City-based groups that frequently collaborate on modern classical performances.
"We're huge Banksy fans," Lucia Ahn, a pianist with the Ahn Trio, said. "To us, this is a very important issue. Being able to express art is so important to us." As dancers from the company spun and twirled in front of the wall, a handful of people stopped to watch and film videos.
Virginia resident Noe Mansilla, 22, also stopped by the mural Monday. Though he had just a day to spend in the city, he wanted to see the new work in person after reading about it online. Mansilla said he was "100% a Banksy fan," calling the artist "legendary."
Seeing Banksy's tribute to Dogan was Mansilla's first time viewing Banky's work in person, and he said he was "freaking out."
But not everyone was as enthusiastic. Justin Medina, 35, paused to look at the work while he was out walking a tiny dachshund named Bella. Medina, whose Instagram is filled with photographs of graffiti (his handle, which he offered quickly, is @d2_nut2), said he was "not really" a Banksy fan.
"I guess he did it pretty fast," Medina said of Banksy's new installment. "It's kind of wack."