Trump highlighted a Clinton Foundation initiative in outlining his opioid policy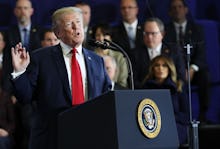 During a speech Monday in New Hampshire outlining his administration's policy to combat the ongoing opioid crisis in the United States, President Donald Trump touted a program funded in part by the Clinton Foundation, one of his favorite punching bags.
During the speech, Trump spoke about Adapt Pharma's pledge to give free doses of Narcan — a brand of the life-saving drug naloxone that can treat someone suspected of overdosing on opioids — to colleges and universities across the country.
In April, Adapt Pharma partnered with the Clinton Foundation to provide 40,000 doses of Narcan to colleges and universities, and on Monday, Adapt Pharma announced its plans to expand on that program to give high schools across the country two free cartons of the drug, amounting to four doses.
During his 2016 presidential campaign, Trump repeatedly attacked the Clinton Foundation as being "outright corrupt," saying it engaged in illegal "pay-for-play" tactics.
Chelsea Clinton was quick to thank Trump for the recognition Monday afternoon. "Mr. President, thank you for recognizing the @ClintonFdn's work with Adapt Pharma to prevent opioid overdose deaths and save lives," the Clinton Foundation board member and former first daughter tweeted.
Aside from touting Adapt Pharma's initiative to make Narcan more readily available, Trump also spoke on Monday of his push for stricter penalties for drug traffickers across the country — including the death penalty.
Trump's speech, however, quickly veered toward attacking undocumented immigrants and immigration laws, which he seemed to blame for much of the drug crisis.
In his pitch to end the drug crisis, the president said a border wall between the U.S. and Mexico is necessary. He also called for lawmakers to strip funding from sanctuary cities, which he also blamed for the drug crisis.
"Every day, sanctuary cities release illegal immigrants, drug dealers, traffickers, gang members back into our communities," Trump said, adding that "the people of New Hampshire have learned first-hand ending sanctuary cities is crucial to stopping the drug addiction crisis."