Facebook faces calls for investigation, regulation after latest Cambridge Analytica bombshell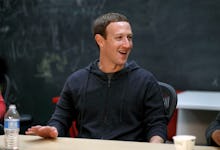 Welcome to Mic's daily read on Donald Trump's America. Want to receive this as a daily email in your inbox? Subscribe here.
Tuesday's dispatch: Facebook faces investigation, regulation
Facebook's announcement on Friday that it had suspended data analytics firm Cambridge Analytica has again stoked scrutiny over how the social media giant influences elections.
Cambridge Analytica was closely aligned during the 2016 campaign with conservative billionaire donor Robert Mercer, who invested $15 million in the firm, and former Donald Trump chief strategist Steve Bannon, who was vice president of the company's board. Mercer's daughter, Rebekah, was also on Cambridge Analytica's board. The London-based firm promised people like Mercer and Bannon it could use social media data about millions of Americans to influence election results.
It's long been known that Cambridge Analytica was successful in using private information to hypertarget people with advertising during the 2016 presidential campaign. But a recent New York Times article details how the firm harvested private data from about 50 million Facebook profiles to inform its modeling of the U.S. electorate. Facebook suspended Cambridge Analytica for reportedly using that private user data in violation of the platform's terms of service and holding onto that data long after it should have been deleted. That revelation has triggered a wave of inquiries into Cambridge Analytica, as well as criticism and scrutiny of the unregulated data collection tactics Facebook employs.
On Monday, Sen. Amy Klobuchar (D-Minn.) called on Facebook CEO Mark Zuckerberg to answer questions before the Senate about how the platform tracks and uses the personal information of users. Sen. Mark Warner (D-Va.) said recent revelations of Cambridge Analytica's activity demand regulation of political advertising on social media. And it's not just Democrats. Sen. John Thune (R-S.D.), the No. 3 Republican in the Senate, is sending Facebook questions from the Senate Commerce Committee about how Cambridge Analytica wrongly gathered data from Facebook.
In Massachusetts, state Attorney General Maura Healey has launched an investigation into Cambridge Analytica. In the United Kingdom, the government is seeking a warrant to examine the firm's servers. Lawmakers there are also calling on Zuckerberg to testify before Parliament. The Australian consumer watchdog agency is also seeking answers from Facebook on whether the private information of any Australians was captured by Cambridge Analytica. And on Monday, part of an undercover Channel 4 News report in the United Kingdom further added to Cambridge Analytica's woes, as it showed the firm's leaders explaining how the company uses bribery and extortion to help their political clients.
Now, Alex Stamos, who oversaw Facebook's data security, is reportedly leaving the company after disagreements with other executives over how much to share with lawmakers about foreign governments' use of the platform to influence elections. A former Facebook employee, Sandy Parakilas, told the Guardian that Facebook routinely allowed firms to harvest the personal information of users. Millions of people have likely had their data taken off the platform and stored, he said.
This latest controversy led to Facebook's stock to fall nearly 7% during Monday trading in the U.S. — the company's worst single day decline since March 2014. Goldman Sachs is warning investors that regulation of political ads on the platform is inevitable, with perhaps further regulation to follow.
Nearly a year and a half after Trump won the presidency, the tools his consultants and supporters used to help sway the election in his favor are becoming clearer. The key question is whether Facebook can weather the most severe criticism in the history of the company or face investigation and regulation from Washington.
Today's question: Should U.S. lawmakers regulate Facebook to better protect user data?
Please email us at trumpsamerica@mic.com with your thoughts.
Tuesday in Trump's America:
Primary election: Rep. Dan Lipinski (D-Ill.) is facing a primary challenge from progressive candidate Marie Newman on Tuesday. The race has drawn support from national groups either angling to preserve Lipinski, a moderate "blue dog," or oust the congressman who some see as too conservative. The race is seen as representative of the future of the Democratic Party.
N.Y. governor bid: Sex and the City actress Cynthia Nixon has filed to challenge New York Gov. Andrew Cuomo in the state's Democratic primary.
Tariffs and China: Trump is looking to double the size of new tariffs on China to roughly $60 billion. First presented with a plan to impose $30 billion in tariffs on a broad number of Chinese products, Trump reportedly aims to double the impact.
Killing drug dealers: Trump touted a plan in New Hampshire on Monday to fight the opioid crisis that includes giving drug dealers the death penalty. BuzzFeed reported on the challenges with that approach. As Mic's Emily Singer points out, in his speech, Trump touted a Clinton Foundation initiative.
McCabe firing: Former Deputy FBI Director Andrew McCabe's firing on Friday has led to Democrats calling for hearings and offering him a job to ensure he receives his federal pension. But Sen. John Cornyn (R-Texas), the Senate's No. 2 Republican, said he still sees no need for legislation that would protect special counsel Robert Mueller as he does not believe Trump will fire him.
Trump's legal team: Trump is considering reshuffling his legal team to handle a more aggressive approach to the Mueller investigation.
Gerrymandering: The Supreme Court rejected a bid by Pennsylvania Republicans to consider an appeal to the state Supreme Court decision that the state's congressional maps are gerrymandered to favor the GOP and must be redrawn.
Spending bill: Lawmakers appear to be largely punting on controversial issues in a spending bill they must pass by Friday to keep the government open. They will not include language to shore up the Affordable Care Act's individual health insurance markets, nor will they spend $900 on a New York to New Jersey tunnel project Trump does not support. The bill will also not defund Planned Parenthood or sanctuary cities.
Dynamic to watch: The conservative Koch network is urging Trump to accept a Democratic deal that would spend $25 billion on the president's proposed border wall while offering a pathway to citizenship for 1.8 million undocumented immigrants.