Shooting at Maryland high school leaves gunman dead, 2 critically injured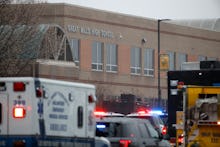 Nearly a week after students across the country walked out of schools in a protest of gun violence, a shooting at Great Mills High School in St. Mary's County, Maryland, left two people critically injured and the gunman dead on Tuesday morning.
The shooting began just after classes started at around 8 a.m. on Tuesday morning, St. Mary's County Sheriff Timothy K. Cameron told the Washington Post.
"As soon as the shots were fired, the [school resource officer] was notified by staff and students and quickly engaged the shooter," Cameron said.
He added that the two injured victims were a male and a female, and confirmed that the shooter was a current Great Mills High School student. The sheriff's office has not yet released the identity of the shooter or a potential motive.
In a tweet, the St. Mary's Sheriff's Office had instructed parents not to report to Great Mills to reunite with their children but to nearby Leonardtown High School where students had been bussed.
One young woman named Mollie Davis, who claimed to be a student at Great Mills, tweeted that the school had been placed on lockdown. She later wrote that she had boarded a bus and was headed to the reunification center.
"I feel like there's so much I want to say but I can't find the right words," she wrote. "I wish everything was different."
When someone commented on her post asking what people could do to help, Davis responded, "I don't know. Vote. Thats all I can think of right now."
The shooting comes just days before the planned March for Our Lives rally scheduled for March 24, when students in Washington and across the country will take to the streets to advocate for increased political action on gun control.
On Tuesday, Emma González — one of the teenage survivors of the February school shooting in Parkland, Florida, and a chief architect of March for Our Lives — tweeted to express her support for the Maryland victims.
"We are Here for you, students of Great Mills," she wrote. "Together we can stop this from ever happening again."