Why celebrity fragrances wouldn't exist without Elizabeth Taylor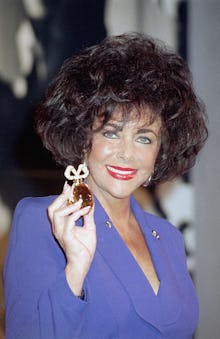 Before Glow by Jennifer Lopez, Heat by Beyoncé, Curious by Britney Spears, Lovely by Sarah Jessica Parker and Crystal Gardenia by Kim Kardashian West, there was White Diamonds by Elizabeth Taylor. In fact, without Elizabeth Taylor, it's safe to say we never would have gotten a single spritz of Glow or Heat or Curious or Lovely. The horror.
Taylor's White Diamonds wasn't the first celebrity fragrance — there was Cher's Uninhibited in 1987 and Sophia Loren's Sophia in 1981 — but it's known as the first hugely successful celebrity fragrance that told the world back in 1991 that if you're famous, a perfume might not be that bad of an idea.
White Diamonds — with notes of Italian neroli, Egyptian tuberose, narcissus and Turkish rose — has generated more than $1.5 billion in its 25-year history. Four bottles of the scent are sold per minute, according to Revlon, with a bottle sold every 15 seconds worldwide.
"I think that people wanted to smell like Elizabeth Taylor," Tim Mendelson, Elizabeth Taylor's chief of staff of more than 20 years, said in an interview. "I don't think anybody, even if they're super popular, can sell fragrance. Elizabeth was so known for beauty and style and glamour, and when women put it on, they want to feel like they have a little bit of Elizabeth."
On this National Fragrance Day, Mic reflects on Taylor's industry-shifting move.
Taylor's foray into fragrance began at a top-secret press conference in 1987. Despite not knowing what she would announce — whether she was getting married again, moving to France, etc. — everyone showed up.
Once they were all settled in the room, Taylor trotted up to a podium wearing a fur coat and hat and announced she'd be releasing a fragrance called Passion.
Fast forward a few years to 1991, when sales of Passion had reached an estimated $100 million. Why wouldn't she want to debut a new fragrance? Luckily for her, the year was already set to be a big one. She was about to get married to construction worker Larry Fortensky at Michael Jackson's Neverland Ranch. Imagine the tabloids at that time.
With all eyes on her, Taylor dropped White Diamonds in partnership with Elizabeth Arden, with a $20 million marketing campaign that included a promotional tour across North America and buying out the back page of Vogue, according to Mendelson.
"There were like 10,000 people showing up to see her and get her attention," Mendelson recalled.
There was also that now-iconic White Diamonds commercial, which was shot in black and white and featured Taylor dramatically tearing off a diamond earring and purring: "These have always brought me luck."
Apart from commercial success, the Fragrance Foundation named White Diamonds its Fragrance of the Year in 1992 and later inducted the perfume into its Hall of Fame in 2009.
"There was so much authenticity," Mendelson said. "She designed them for herself. Elizabeth, whenever she made something or put her name on something, it had to be real. She made everything for herself."
A long list of perfumes from Taylor followed. There was Diamonds and Emeralds in 1993, Black Pearls in 1996, Sparkling White Diamonds in 1999 and Brilliant White Diamonds in 2001, to name a few. A fragrance empire was born — and the industry of celebrity fragrance hasn't been the same since.
In 2011, Taylor decided to do some good with her success, mandating that 25% of her perfume royalties be donated in perpetuity to the Elizabeth Taylor AIDS Foundation. 
"I had no idea that White Diamonds would become a classic when we began, but I am thrilled it has because it means we have really succeeded in giving women a little bit of luxury every day," Taylor told Kim Kardashian West that same year.
Mendelson is careful to set Taylor's perfume empire apart from the other celebrity fragrances that have since been introduced, however. To him, it feels more like celebrities (or more accurately, their management) are trying to capitalize on fame, rather than earnestly caring about perfume.
"They have a celebrity and they're trying to capture a fan base," Mendelson said. "There's so many not just celebrity, but perfume launches now. When Elizabeth did White Diamonds, women would buy a scent and wear it forever. I still meet people that it's all they wear. I think for the younger consumer, they're interested in what's new and what's next. If you have a celebrity attached, if you have a Kim Kardashian for example, they love her, so it's like, 'Oh my god, she came out with a scent, I have to get it.'"
Regardless of whether you want to recognize something like Lopez' Glow — which has also made hundreds of millions of dollars together with her clothing line — on the same level of White Diamonds, we'd say Taylor is long past due for getting credit for creating this hugely influential corner of the market.