Stormy Daniels, and now ex-'Playboy' model Karen McDougal, bring more trouble for Donald Trump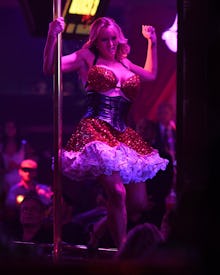 Two porn actresses are continuing to be a thorn in President Donald Trump's side, as a steady stream of news about the alleged affairs he had years ago with both Stormy Daniels and ex-Playboy model Karen McDougal continues to come out.
The Wall Street Journal reported Tuesday that Daniels took a polygraph test in 2011 that showed Daniels was telling the truth when she said she had unprotected sex with Trump.
"Ms. Clifford presented herself well in outward appearance of credibility," the examiner wrote of the lie detector test Daniels took years ago. "There were no observable indications of intent to deceive."
Meanwhile, McDougal filed a lawsuit on Tuesday seeking to be freed from a legal agreement that forbids her from talking about her alleged affair with Trump, the New York Times reported.
"The lawsuit filed today aims to restore her right to her own voice," Peter K. Stris, McDougal's lawyer, told the Times. "We intend to invalidate the so-called contract that American Media Inc. imposed on Karen so she can move forward with the private life she deserves."
Both Daniels and McDougal signed legal agreements forbidding them from talking about their relationships with Trump.
Trump paid Daniels, whose legal name is Stephanie Clifford, $130,000 for her silence. The National Enquirer paid McDougal $150,000 for the exclusive rights to her story, but never published her account — effectively silencing her.
Daniels has been seeking to get her confidentiality agreement invalidated, saying Trump didn't actually sign the agreement.
Trump's legal team is trying to prevent Daniels from telling her story, filing a court document on Friday that says they will seek more than $20 million in damages if Daniels does tell her story publicly.
Trump lawyer Michael Cohen even taunted Daniels in a Vanity Fair article published Monday, saying he would "take an extended vacation on her dime."
Daniels gave an interview to 60 Minutes, which is set to air Sunday.