While you weren't looking: 5 stories from the Trump administration that aren't about John Bolton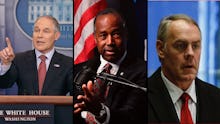 This week, the news cycle has centered squarely on the ongoing Russia probe and unfolding drama at the White House, and excluded many other political news developments.
President Donald Trump began the week by attacking special counsel Robert Mueller specifically, rather than the Russia probe in general, for the first time on Twitter. He kept up his criticism as the week dragged on, even as his top lawyer in the case, attorney John Dowd, unexpectedly resigned on Thursday.
Then on Thursday, he announced he would be replacing his national security adviser H.R. McMaster with former ambassador John Bolton.
Amid all that noise, several major stories concerning the Trump cabinet went largely unnoticed. Here's what you might have missed this past week.
Mike Pompeo's wife uses office space at CIA headquarters, and is attending meetings with secret intelligence agencies
CIA Director Mike Pompeo has been in the news for his recent appointment to replace Rex Tillerson as the U.S. Secretary of State. But a report in the Washington Post this week revealed that a different Pompeo has been making waves within the CIA — the director's wife, Susan Pompeo.
According to the Post, Susan Pompeo uses office space on the seventh floor of the CIA's Langley headquarters, where CIA staff assist her in her volunteer work. The seventh floor is typically reserved for the agency's senior leadership.
Pompeo also accompanied her husband on a trip to Britain to meet with the head of that country's intelligence agency, MI6.
Britain's government takes secrecy around those meetings very seriously. When presidential candidate Mitt Romney announced a meeting he took with the head of the agency in 2012, it was widely regarded as an inappropriate disclosure, and the British government was eventually forced to address his comments.
Scott Pruitt spent over $105K on first-class flights
Environmental Protection Agency administrator Scott Pruitt spent more than $105,000 — or approximately 3.4 expensive table sets — on first class flights during his first year in office, according to Politico.
The six-figure sum is in addition to the previously reported $58,000 Pruitt spent on chartered flights and military aircraft. This brings his total flight spending to about $163,000 for 2017.
On Feb. 28, Pruitt said that he would follow the lead of previous EPA administrators and switch to flying coach, after initially claiming he had to fly first class because he was apparently receiving threats.
At the time, EPA officials told Politico that one passenger shouted at Pruitt saying, "you're fucking up the environment."
Zinke brings government security detail on private European vacation
Interior Secretary Ryan Zinke reportedly used a government security detail while on vacation with his wife in Greece and Turkey, according to documents obtained by Politico.
The documents do not show the cost of the security detail, or how many security officials were part of it.
A spokesperson for the Interior Department told Politico that the detail was because Zinke is "in the presidential line of succession" and "has access to sensitive and classified information, which makes his protection a matter of national security."
In his role, Zinke is eighth in the presidential line of succession, and would be called upon to become president in the event that the president, the vice president, the speaker of the House, the president pro tempore of the Senate, the secretaries of state, treasury and defense and the attorney general all died or became unable to serve.
Some women aren't "comfortable" with transgender people, Carson says
Secretary of Housing and Urban Development Ben Carson says the reason his agency hasn't met its obligation to create new protections for transgender people in homeless shelters is that some people are "not comfortable" being in a shelter with transgender people.
"There are some women who said they were not comfortable with the idea of being in a shelter, being in a shower, and somebody who had a very different anatomy," Carson said in response to questions about the agency's delay in instituting new rules to prevent discrimination in homeless shelters.
Carson, who previously warned against making government housing too "comfortable," lest the nation's poor be tempted by laziness, indicated that he believes the comfort of those who are bigoted against transgender people is worth protecting.
Carson told lawmakers that discussions about the rules are still ongoing and will involve the agency's general counsel.
DeVos proposed major cuts to her own agency, was shot down
In a rare turn of the tables for Washington, the head of a major federal agency asked for less money from Congress. She was rejected.
Education Secretary Betsy DeVos released a funding proposal for her agency on Wednesday that sought to cut $3.6 billion, or about 5%, of total spending from the entire department budget.
Among the main items DeVos sought to cut were funding for after-school programs, low-income college grants, student mental health services and funding of the department's civil rights division.
The budget also proposed over $1 billion in increased funding for private school vouchers, charter schools and magnet schools.
On Thursday, Congress chose instead to increase the department's budget by more than the amount DeVos had sought to cut — $3.9 billion — while providing no new funding for voucher programs.