Progressives handed their first big blow of 2018 as Dan Lipinski wins Democratic primary in Illinois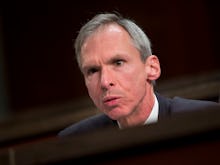 Progressive Democrats were handed their first big blow of 2018 on Tuesday night when conservative Democrat Rep. Dan Lipinski (D-Ill.) bested progressive businesswoman and anti-bullying advocate Marie Newman in the Democratic primary for Illinois' 3rd Congressional District.
Lipinski won the primary race by less than two percentage points, according to the Associated Press.
Lipinski first took office in 2004, after he was placed on the ballot when his congressman father decided not to run for re-election, after already winning the nomination. In 2018, he was one of progressive organizers' biggest targets.
During his tenure in Congress, Lipinski voted against the Affordable Care Act and funding for Planned Parenthood. He also supported a constitutional amendment to ban same-sex marriage and trying to make it more difficult for Syrian refugees to enter the U.S. He even opposed the re-election of then-President Barack Obama in 2012 — despite the fact that he was running for re-election in Illinois, the largely Democratic state that Obama once represented in the Senate.
By contrast, Newman ran as a pro-abortion rights, pro-LGBTQ, pro-immigrant and pro-refugee progressive, telling Marie Solis of Newsweek that, if she won, she would buy Lipinski "a time machine so he can go back to the 1940s" where "his attitudes belong."
Lipinski's views have been so out of step with the national Democratic Party that two members of Illinois' own congressional delegation, Democratic Reps. Luis Gutierrez and Jan Schakowsky, both endorsed Newman in the primary.
Lipinski's victory illustrates the challenges that progressive Democrats face trying to oust longtime incumbents who benefit from high name recognition in their respective districts. He is expected to handily win the 2018 general election, after Republicans failed to field a legitimate candidate to run, effectively ceding the Republican nomination to perennial Nazi candidate Arthur Jones.