What to know ahead of the more than 800 March for Our Lives demonstrations on Saturday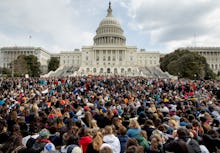 Welcome to Mic's daily read on Donald Trump's America. Want to receive this as a daily email in your inbox? Subscribe here.
Wednesday's dispatch: March for Our Lives
The teenagers are coming.
Saturday will bring thousands of demonstrators, led by survivors of the Feb. 14 Parkland, Florida, shooting, to Washington for the March for Our Lives. Organizers aim to fill a several block stretch of Pennsylvania Avenue between the Capitol and White House with protesters. There are more than 820 marches around the world planned in solidarity with the march on Washington.
Officials in Washington are taking extra precautions as they prepare for up to 500,000 demonstrators, many of them under 18, at Saturday's march. None of the featured speakers will be older than 18, an organizer told the Washington Post, to keep the spotlight on the teenage organizers.
The official March for Our Lives event in Washington begins at 10 a.m. Saturday. But hundreds of other events begin at different times throughout the country. Similar to the Women's March on Washington in January 2017, that will likely guarantee a day of wall-to-wall news coverage of marches in cities across the country.
Celebrities have also thrown their support behind the march. Justin Timberlake, Lady Gaga and Justin Bieber are a few who have raised awareness of the event through social media. Oprah Winfrey, George Clooney and Jimmy Fallon have donated to support the event. Musical guests before the Washington march will include Common, Demi Lovato and Ariana Grande.
This follows more than 3,000 school walkouts March 14 organized by the Women's March, a month after 17 people were killed in the Parkland high school shooting. Hundreds of thousands of students demanded stronger gun laws in the walkouts. And the National School Walkout on April 20, on the 19th anniversary of the Columbine High School shooting, has registered more than 1,600 schools for participation.
To date, the pressure from students has forced little change on guns in Washington. March for our Lives organizers want to see a national ban on military-style guns, an end of the sale of high-capacity magazines and closing loopholes that allows the purchase of guns without a background check. None of those proposals have gained traction in Washington. And none of those provisions were included in legislation that Florida lawmakers passed in the wake of the Parkland shooting.
The activism could not be more timely for the Washington area. A school shooter Tuesday at a Maryland high school outside Washington shot two students before he died, either by shooting himself or by the bullet of a school resource officer. In New York City, students said they used that shooting as motivation to take to the streets on Saturday.
"I think it just proves this is just something that'll continue to happen unless we see real change," 14-year-old Charlotte Ritz-Jack told television station WPIX. "It can't just be thoughts and prayers. It can't just be treating this as a mental health issue. It has to be restrictions on guns."
Today's question: Are you participating in a March for our Lives event?
Please email us at trumpsamerica@mic.com with your thoughts.
Wednesday in Trump's America:
Illinois primaries: Rep. Dan Lipinski (D-Ill.) survived a primary challenge against progressive Marie Newman on Tuesday night. Lipinski's win was a loss for progressives as national liberal groups supported Newman. Lipinski has an anti-abortion record and also once supported a constitutional amendment to ban same-sex marriage.
In addition, Illinois Republican Gov. Bruce Rauner survived a bruising primary challenge from a conservative challenger, weakening him ahead of the November election. Rauner will face Democratic billionaire J.B. Pritzker.
Trump and Putin: President Donald Trump was told by his national security advisers in capital letters "DO NOT CONGRATULATE" Russian President Vladimir Putin on his election victory. Trump did it anyway, the Washington Post reported.
Budget bill: Republicans are still trying to finalize a deal to pass a spending bill through Congress by the Friday deadline and ahead of Saturday's march, which the GOP does not want to be in session for.
First class: Environmental Protection Agency administrator Scott Pruitt spent more than $100,000 taxpayer dollars on first-class flights in his first year, arguing he could not fly coach for security reasons.
Trump's affair scandals: Porn actress Stormy Daniels took a polygraph test in 2011 that said she was telling the truth about having unprotected sex with Trump. And ex-Playboy model Karen McDougal filed a lawsuit on Tuesday also seeking to be released from a legal agreement that prevents her from speaking publicly about her alleged affair with Trump.
Facebook: The company makes money by selling your personal data. Xavier Harding of Mic wonders why you can't pay $30 a year to keep your data private?
Lawmakers in Washington are demanding Facebook CEO Mark Zuckerberg testify before them. It's not yet clear whether Zuckerberg will voluntarily make the trip to D.C.
Senate Intelligence Committee: The group that has been investigating Russian influence on the 2016 U.S. presidential election for more than a year released an initial report Tuesday that said states should have paper trails for votes cast and stronger cybersecurity. The recommendations were not groundbreaking and have roots in ideas that emerged after the 2000 presidential election.
Fox resignation: Lt. Col. Ralph Peters resigned as a Fox News analyst following the network's "profoundly dishonest" attacks on the FBI.
Tariffs: The United States is set to impose new tariffs on China worth at least $30 billion on Thursday.
Cambridge Analytica: A former employee of the embattled data analysis firm said former White House chief strategist Steve Bannon oversaw the wrongful collection of personal data from Facebook users as a board member of Cambridge Analytica during the 2016 campaign.
The firm has suspended its CEO, as attorneys general in New York and Massachusetts demand data gathered from Facebook be handed over to state authorities.
Yemen: Senators on Tuesday rejected a measure that would have limited U.S. support for the Saudi-led war on Yemen.
Affordable Care Act: A White House economic report is expected to find health insurance companies have adjusted to the Affordable Care Act and improved financially since the law's passage. That may make it more difficult for Congress to pass subsidies to health insurers lawmakers argued were needed for insurers to provide some ACA insurance plans.