Cynthia Nixon did it on Twitter. How have other celebrities announced their switch to politics?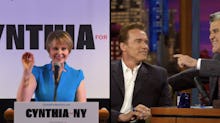 Actress Cynthia Nixon, known to most as Sex and the City's Miranda Hobbes, announced her bid for the Democratic nomination for governor of New York on Monday, ending weeks of speculation that she would throw her hat in the ring. Nixon broke the news with a two-minute campaign video on Twitter, in which she touched on issues like New York City's "broken subway" and ending mass incarceration. Nixon will challenge incumbent and current Gov. Andrew Cuomo in the September primary.
For an actress-turned-activist who's just one award away from an EGOT, her announcement may have seemed somewhat low-key. But Nixon's certainly not the only celebrity to pivot to politics, so how have others unveiled their campaigns?
Former California Gov. Arnold Schwarzenegger, one of the most high-profile celebrity politicians, first announced his intention to run for office in his adopted home state of California in a 2003 appearance on The Tonight Show with Jay Leno. As CNN reported at the time, the news came as a surprise, since it had been rumored Schwarzenegger had decided not to enter the race. But on Leno's show, Schwarzenegger revealed he would run after all.
"I came to the conclusion that even though there are great sacrifices to make, I felt in the end it is my duty to jump in the race," Schwarzenegger told reporters shortly after his announcement. "I'm the most unique candidate because I'm an outsider."
In 2014, American Idol runner-up Clay Aiken launched what would ultimately be an unsuccessful bid for Congress in his home state of North Carolina. Aiken announced his campaign, in which he ran as a Democrat, in a video posted to YouTube.
In his video, Aiken stressed the benefits of his newcomer status and the populist appeal a celebrity candidate might offer, saying, "I'm not a politician. I don't ever want to be one, but I do want to help bring back — at least to my corner of North Carolina — the idea that someone can go to Washington to represent all the people, whether they voted for you or not."
Former Sen. Al Franken (D-Minn.), who resigned from office in February following a series of sexual harassment allegations, announced in 2007 his intention to transition from comedian and former Saturday Night Live writer to politician. The day the final episode of Franken's Air America radio show aired, he revealed his plans to run.
In a video posted to his website, Franken seemed to reference his history as a comedian and attempted to assuage concerns about his former career. "Minnesotans have a right to be skeptical about whether I'm ready for this challenge and to wonder how seriously I would take the responsibility that I'm asking you to give me," Franken said in the video clip, the Associated Press reported at the time.
Little House on the Prairie star Melissa Gilbert, who played Laura Ingalls Wilder in the '70s series, also mounted a run for Congress in Michigan in 2015. In a statement posted on her website, Gilbert declared her intention to run for office as a Democrat, saying, "I'm running for Congress to make life a little easier for all the families who feel they have fallen through the cracks in today's economy," the Detroit Free Press reported. However, Gilbert later withdrew from the race, citing health issues.
And then, of course, there's today's most famous celebrity-turned-politician, President Donald Trump. Trump, who starred as himself on the reality competition show The Apprentice for 14 seasons, unsuccessfully ran for president in 2000 as a member of the Reform Party. But in 2015, he announced his intention to run for president as a Republican, famously descending an escalator in Trump Tower in New York City before taking the podium to make his very first speech as a presidential candidate.
In that speech, Trump revealed his plans for a border wall, criticized Mexican immigrants as "rapists" and revealed his campaign slogan, Make America Great Again.
As the newest celebrity political candidate on the New York scene, Nixon has been a vocal critic of Trump and his policies. Besides both appearing on Sex and the City, the two have next to nothing in common. But Cuomo, Nixon's primary opponent, has already tried to use the actress's Hollywood star power against her.
"Normally name recognition is relevant when it has some connection to the endeavor," Cuomo said in a call with reporters in March, the Washington Post reported. "If it's just about name recognition, then I'm hoping Brad Pitt, Angelina Jolie and Billy Joel don't get into the race."