What Melania Trump wore her 61st week as first lady — when she addressed cyberbullying and more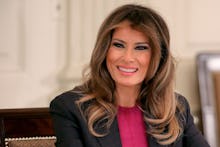 As per usual, multiple embarrassing scandals continue to rock through the White House, and Melania Trump appears to be as serene as they come. Honestly, how does she do it? We'd love to know.
This week, she tagged along with her husband to New Hampshire and even held a discussion at the White House for her one cause: cyberbullying.
This is what she wore:
Monday, March 19: A blue Chloé coat in New Hampshire
On Monday, Trump joined her husband on a trip to New Hampshire, where he made a speech on opioid addiction. That day she wore a blue Chloé coat with high brown Gianvito Rossi boots underneath.
Tuesday, March 20: A suit with a peek of pink at the White House
In one of her first moves as a policy-pusher in the White House, Trump hosted a roundtable discussion on cyberbullying — ironic, eh? She was decked out in a dark skirt suit, with a belt and fuchsia shirt peeking out underneath, all of which have yet to be identified.
Friday, March 23: Another suit for the State Department
Friday afternoon, Trump headed over to the State Department to give a speech during the International Women of Courage award ceremony. For the event, she opted for a bit of color: a pink suit by Pucci with a contrasting yellow blouse underneath.
You can see previous recaps of what Melania Trump wore here.