How hard cider makers are reviving the apple industry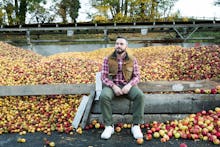 Cider might feel like a relatively new phenomenon in the United States, but it could actually be considered the quintessential North American tipple. Popular from the 17th through the 19th centuries, cider is experiencing a rebound, climbing from 271,000 gallons produced in 1990 to 55 million gallons in 2015. Although there isn't a strong national sense of what the beverage is supposed to taste like, craft and national cider makers are celebrating old apples and the connection between land and product. One key element in the beverage's modern identity? Apple diversity.
For more than two decades, leading national producer Angry Orchard has been researching apples to develop new ciders. "Each heirloom apple found in the U.S. today carries a unique piece of American history and offers a complex flavor experience that translates into unexpected cider," Ryan Burk, Angry Orchard's head cider maker, said in an email interview.
Apple seeds arrived in North America as early as 1607, thanks to puritans from France and England who planted seedling orchards that inherently fostered biodiversity. Varying combinations of sweet, acidic, bitter and tannin-laden apples make ciders interesting, and early American cider makers relied on a mix of fruits, in what Jude Schuenemeyer of Colorado's Montezuma Orchard Restoration Project refers to as "the general goodness of the orchard." But preserving apple biodiversity is about more than flavor.
According to Schuenemeyer, by the 1860s, the fruit had made its way west to Colorado. As settlers moved west, many brought seeds or favorite cuttings that became the foundation for the region's orchards. Unsure which trees would survive the erratic mountain weather, Colorado's early apple trees were planted — some by seed, others by rootstock — with diversity in mind.
Apples are heterozygous, meaning they are not true to type from seed. Five-hundred apples with five seeds each could produce 2,500 distinct varieties, only some of which would have the same color, texture, and flavor profiles of the parent. These endless hereditary combinations have kept the species healthy and allowed it to thrive across continents, but they also make it difficult to preserve rare varieties in the context of modern agriculture.
Endless hereditary combinations have kept the species healthy, but they also make it difficult to preserve rare varieties in the context of modern agriculture.
Reproducing a favorite apple requires rigorous attention that starts with grafting cuttings from an existing tree onto scions or rootstocks. "Somewhere along the line, someone looked at apple forests and realized tree limbs were fusing. There was this leap of imagination, taking a cutting and attaching that to something else. So, if you have a variety you like that's really unique, you need to graft it," Schuenemeyer said in a phone interview.
As the drink makes its North American comeback, producers and orchardists of all sizes are working to revive heirlooms and introduce rare varieties in the name of flavor, history, and a commitment to local agriculture.
When Jennifer Seiwald opened Summit Hard Cider and Perry Company in Fort Collins, Colorado, in 2012, she expected to source her juice from known apple-growing states like New York and Washington. "I was going to be an urban cidery. That was my plan," she said in an interview. "But I kept getting phone calls from people saying, 'We've got this apple tree in the backyard.' Or small orchards, 'Hey, we've got all these trees and can you make use of them? We'd really like to see them not go to waste.'"
In 2016, Seiwald acquired the award-winning Branch Out Ciders and their list of nearly 300 homeowners with trees open for picking. Ready to streamline her orchard-to-cider production process, Seiwald secured a USDA grant, bought a mobile press, and began harvesting and juicing from some of the oldest orchards and apple trees in the state.
Seiwald and her staff have begun the painstaking process of identifying and documenting the apples they harvest. She spends much of apple season sampling fruits from neighborhood trees, thinking about what a Colorado cider might taste like. Cider apples — the bitter tannic varieties that give European ciders their specific characteristics — simply don't grow as well in Colorado as they do on the East Coast. But Seiwald sees that as an opportunity. "Unlike beer styles that are already very well-defined, the cider styles in the United States aren't well-defined. And that's great, because hopefully we're embracing what's available locally and creating interesting and tasty products and creating our own set of styles," Seiwald said.
Nine hours away, in Colorado's southwesternmost corner, Addie and Jude Schuenemeyer work full-time toward preserving the state's remarkable apple biodiversity. In 2001, the couple adopted an heirloom nursery in Montezuma County. Customers whose grandparents and great-grandparents had planted apple orchards in the area began bringing them copies of century-old county fair records listing the local varieties.
The first apple the Schuenemeyers decided to track down was the Thunderbolt, a firm, briskly acidic fruit with dark red skin flecked with white. A winter variety, it's at its best when picked after a light frost and left to ripen in storage.
They found the Thunderbolt in an old real estate guide and asked locals where they could find a tree. Directed by people whose families had lived in the canyon for generations, they found several possibilities, took cuttings, did DNA analysis, and discovered that one of the apples was in fact a Thunderbolt. Like most of the fruits that grow in Colorado, the apple is not cider-specific, but it's the type of interesting apple that would add to a blend.
In 2015, drawing on decades of its own research about New York's rich apple-growing history, Angry Orchard started its own orchard in the Hudson Valley. Walden Hollow is now a nationally available cider produced entirely with heirloom varieties that have been growing in the state for hundreds of years, including Newtown Pippin, Golden Russet and Rhode Island Greening. "It all stems from the apple," Burk said. "It's important for cider-makers to use older apple varieties because each apple has a lineage and tradition — it's connected to people."
Inspired by the idea that hard cider can link consumers to the land, Seiwald now makes several seasonal ciders with exclusively local fruit. As her juicing capabilities expand, she hopes to source 30% of her cider precursors locally. Her 17 Mile Farmhouse Cider, with apples from the community orchard, has an earthy aroma, velvety mouthfeel and just enough sugar to be interesting and easy to drink. With 90% of its apples grown within 17 miles of the cidery and bar, this drink very literally tastes like the Rocky Mountain foothills. It's emblematic of this new identity for hard cider: a North American beverage that's full of biodiversity and with a distinct flavor of home.