Racial diversity at Fall 2018 Fashion Month hits a new high as the number of plus-size models drops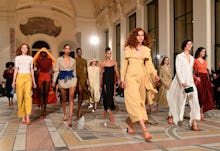 New York Fashion Week's diversity numbers are often the fortune tellers for the diversity numbers we see after the other fashion weeks — in Milan, London and Paris — during the always-exhausting Fashion Month. This season proved no different.
In a new report from the Fashion Spot, which analyzed 242 shows and 7,608 model appearances in New York, London, Milan and Paris, they found that the Fall 2018 runways featured a record 32.5% models of color, which is up from 30.2% for Spring 2018 in September.
NYFW's racial diversity was at a record high as well, and it remains the most racially diverse fashion week of the month, as per usual.
The most diverse shows not in New York included Kenzo, Jacquemus and Off-White in Paris, Gareth Pugh in London and Vionnet, Antonio Berardi and Missoni in Milan.
And while these numbers are heartening, there were still shows that didn't cast a single model of color. Namely, Les Copains and Daniela Gregis in Milan.
Among the most-cast models this month, half were models of color, with Shanelle Nyasiase, Hyun Ji Shin, Yoon Young Bae, Chu Wong, Adut Akech and Alyssa Traoré all walking in more than 30 shows.
Another piece of great news is that transgender and nonbinary castings hit a historic high as well. A record 64 trans and nonbinary models walked in 52 different shows, besting last season by 15.
Teddy Quinlivan, who came out as trans in 2017, was responsible for about 39% of these castings, and 100% of the castings in Milan.
Other trans and nonbinary models who walked over in Europe included Hunter Schafer, who walked for House of Holland, Ashish and Miu Miu, and Dara Allen, who walked for Kenzo.
But as with NYFW this season, this Fashion Month proved to be lackluster for plus-size and curve models. A total of 30 plus-size models walked in all four cities this season. Last season, there were 38, which was the all-time high. This is the first time this number has ticked back since Fall 2016.
Paris Fashion Week featured only three plus-size or curve models — Naomi Shimada and Gabrielle Richardson at H&M and Betsy Teske at Alexander McQueen. London and Milan had no plus or curve castings.
"While racial diversity has been steadily climbing for years, designers remain unwilling to embrace size diversity," Jennifer Davidson, the editor-in-chief of the Fashion Spot, said in an email. "Only a handful of designers regularly cast curve models alongside straight-size models, a choice that effectively ignores most of their customers. It is disheartening, to say the least, that there isn't more of a demand for models of all shapes, sizes and ages."
Mic has gone deep into what this downtick could mean to the industry, and how we can make sure it doesn't happen again. As designer Christian Siriano, who had one of the most racially diverse and size diverse shows in New York this season, told us: "It's the designers, the retailers not supporting or buying a size range, it's the casting teams, editors who don't think change is beautiful. It really is a team effort."
Some designers just haven't gotten the memo.
March 26, 2018, 2:43 p.m.: This post has been updated.