The Underground Railroad stretches beyond the South — one traveler traces its route in Philadelphia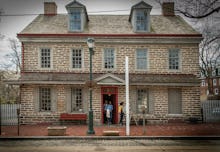 The leaves were starting to change colors — from the deep greens of summer blades of grass to shades of burgundy, gold and orange — when I visited Philadelphia in November. A sharp coldness was also present in the morning, afternoon and evening air as I walked the streets, lost in my thoughts.
I'd taken this trip with the intent of learning more about the city's ties to the Underground Railroad, a secret network of safe houses helping enslaved Africans escape elsewhere and live life as free adult and children. I grew up in the Southeastern region of the United States, familiar with all the tales of the Underground Railroad. Harriet Tubman was always touted as a cornerstone of abolitionists leading the effort, her no-nonsense attitude ensuring enslaved Africans found freedom safely and successfully.
I was, however, naive on just how vast the network was, and how it spread far beyond the South, to places I'd never been before as a little black girl whose universe was set in Stone Mountain, Georgia. This trip, which was organized and sponsored by Visit Philadelphia, was inspired in large part of my curiosity to learn more about black history in areas outside of the South. I am always looking for traces of blackness — the people, the food, their spirits — while traveling. It helps me feel more connected to the world around me.
While in Philadelphia, I visited, observed and walked among many of the sites where former abolitionists carried out their work, shepherding enslaved Africans into a new, free chapters of their lives, remaining steadfast against an institution they viewed as immoral and unethical. Most of them carried out their work in churches and residential homes. And today, you can take a glimpse into these legacies of freedom they left behind, often overlooked by tourists in visits to this city.
Historical Society of Philadelphia
The Historical Society of Philadelphia — one of the oldest in the country — was founded in 1824 and houses more than 600,000 printed items. Listed on Philadelphia's register of historic places, it is also the home of a treasured Underground Railroad artifact — a preserved journal that belonged to William Still, an Underground Railroad agent. The scribbles of his cursive revealed logs of those enslaved Africans who passed through the area. I stood in awe peering at the journal, bound in worn brown leather, as a tangible link to the Underground Railroad and someone who had helped many along in their journey. Additional materials such as papers of children's author Nellie Rathbone Bright and an African-American slang dictionary of Clarence Major's creation can also be viewed, but upon appointment only.
Historic Fair Hill
On a grassy, slanted hill in the Germantown neighborhood of Philadelphia, Historic Fair Hill appears to be just another cemetery. Tall trees shade the area and obscure the simplistic tombstones with leaves and spare twigs. But it has an important connection to the Underground Railroad: The area is a 300-year-old Quaker burial ground where abolitionists Lucretia Mott and Robert Purvis are buried. Between 1703 and the 1960s, the land surrounding an unassuming meeting house was used as a burial ground and represents one of the first integrated cemeteries in Philadelphia.
Johnson House Historic Site
Also in Germantown, the Johnson House Historic Site is an Underground Railroad station as well as a museum and education center. A modest-appearing house from outside on the street, I was surprised at how large the house actually was upon entering. I also found a hidden entrance and back porch not visible from the front and most angles of the house.
The Johnson Family were well-known Quaker abolitionists in Philadelphia who often offered up their home as a place of refuge for enslaved Africans trying to escape. The house is unique in that it is a fully preserved and accessible Underground Railroad stop. Visitors to Johnson House can walk through the house and into the bedrooms, fashioned in the way they were when the family lived there. Tours are also available for visitors to learn more in-depth information about the house, the Johnson Family and other abolitionists in the Philadelphia area.
Mother Bethel African Methodist Episcopal Church
Founder Bishop Richard Allen was born a slave and later converted to Christianity. After purchasing his freedom from his owner, he began preaching at St. George's Methodist Church in 1786. In the years that followed, Allen built Mother Bethel and founded AME as the country's first black denomination. Leading abolitionists such as Harriet Tubman and Lucretia Mott spoke from the pulpit.
The parcel of land Mother Bethel sits on today is the oldest continuously African-American-owned area of the city. Mother Bethel was a known pillar of the community for enslaved Africans and offered them food, clothing and somewhere to sleep as they escaped. Allen was also instrumental in founding the Free African Society. Mother Bethel is majestic in its presentation, ornate stained glass windows lining the sanctuary. Being inside of the church made me feel like I was in the presence of a major part of history.
The bottom level of Mother Bethel functions as a mini museum, with exhibits detailing important figures from the early formation of the church along with clothing and other artifacts. Allen and his wife, Sarah, are buried there.