Report: McCabe had opened criminal investigation into Sessions a year before firing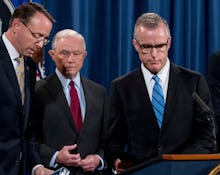 Andrew McCabe, former deputy director of the FBI who was ousted by Jeff Sessions on Friday, authorized a criminal investigation into the attorney general in 2017, according to a reports Wednesday.
According to ABC News, McCabe opened the inquiry in March 2017 in response to a letter from Democratic lawmakers requesting a probe of Sessions' contacts with Russians and "whether any laws were broken in the course of those contacts or in any subsequent discussion of whether they occurred."
Sessions fired McCabe ahead of an upcoming inspector general report that is expected to accuse McCabe of lacking candor in discussions with internal investigators about information he allegedly disclosed to the media. He had announced his resignation in January and was due to retire days before his termination.
McCabe, a frequent target of President Donald Trump, blasted Sessions' decision in a blistering statement Friday, saying his firing was part of the administration's "ongoing war on the FBI and the efforts of the special counsel investigation, which continue to this day."
Trump has intensified his attacks on Robert Mueller's Russia investigation in recent days, renewing concerns he may attempt to sack the special counsel.
According to ABC News, the 2017 investigation into Sessions was opened following a request by Sen. Patrick Leahy (D-Vt.), the ranking member of the Senate Judiciary Committee, and then-Sen. Al Franken (D-Minn.), a member of the panel that had questioned Sessions over his Russia contacts during his confirmation hearing.
At the time, Sessions denied having communications with Russians, but it was revealed two months later that he had spoken with then-Russian ambassador Sergey Kislyak at least twice in 2016. He recused himself from matters related to the Russia investigation as a result of the scandal, but has denied deliberately omitting the contacts in his testimonies.
Deputy Attorney General Rod Rosenstein has overseen the FBI's Russia probe since.
The letter from Leahy and Franken was sent to James Comey, whom Trump fired as FBI director in May. McCabe — who served as acting director of the FBI before being succeeded by Christopher Wray — said in his statement Friday that he had been "singled out and treated this way because of the role I played, the actions I took and the events I witnessed in the aftermath of the firing of James Comey."
The Comey firing has been a significant interest of Mueller, who appears to be investigating the event as part of an inquiry into Trump's possible obstruction of justice.
Mueller is no longer investigating Sessions over statements made in his confirmation hearing, a lawyer representing the attorney general told ABC News on Wednesday.
But it's unclear whether Sessions is being scrutinized in other aspects of Mueller's investigation, such as his role in Comey's firing or any knowledge he had about contacts other Trump campaign staffers had with Russia during the presidential campaign.
A source told ABC News that Sessions was unaware McCabe had authorized an investigation into him when he terminated McCabe on Friday. Sessions' attorney, however, wouldn't confirm that to the outlet.