Trump targets China for stealing American inventions, foreshadowing possible trade war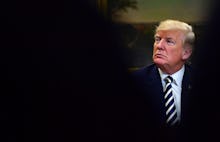 Welcome to Mic's daily read on Donald Trump's America. Want to receive this as a daily email in your inbox? Subscribe here.
Thursday's dispatch: What to know about Trump's new Chinese tariffs
President Donald Trump is expected to target the Chinese technology sector on Thursday with new tariffs that discourage theft of American inventions. Trump may restrict Chinese investment in the U.S. and raise the cost on high-tech products manufactured in the country.
The U.S. plans to justify the tariffs as a message to China over intellectual property theft. Trump's advisers argue American companies have lost thousands of jobs and billions of dollars to Chinese companies that have stolen their ideas. For example, Sinovel was convicted in January of stealing American wind turbine secrets. Members of the Trump administration, such as U.S. trade representative Robert Lighthizer, argue those companies and China must be punished. "We are losing [revenue] to China in ways that are not reflective of the underlying economics," Lighthizer told the House on Wednesday.
The move is the latest in Trump's pivot to aggressive trade policy in 2018. To the chagrin of most Republicans and Democrats in Congress, Trump imposed tariffs on imported steel and aluminum earlier this month. He promised during the 2016 campaign to pursue trade measures that would favor American over foreign workers, even though history shows tariffs have been disastrous for the United States.
Trump is expected to announce tariffs on $60 billion of Chinese goods, about 10% all of goods China sent to the United States in 2017. China has promised to retaliate, potentially by imposing tariffs on U.S. agricultural exports, if Trump follows through on his plan.
These moves could spark a standoff between the U.S. and China, which sends more goods to the U.S. than any other country. And American consumers would be caught in the middle — for example, a Chinese tariff on agricultural imports from the U.S. could devastate American farmers.
The tariffs show Trump is willing to risk a trade war, which China and other countries have threatened, to protect U.S. workers. Trump and his supporters are betting that such protection will be a politically popular pitch, though steel and aluminum tariffs seemed to do little to boost a Republican running for Congress in southeastern Pennsylvania earlier in March. In fact, Republican Rick Saccone officially conceded to Democrat Conor Lamb on Wednesday night.
Meanwhile, Trump has already shown a willingness to compromise on tariffs as part of his foreign policy strategy. Lighthizer told Congress on Wednesday that the United States is close to reaching a deal with several U.S. allies to exempt them from steel and aluminium tariffs. Brazil and South Korea could both receive exemptions, as Canada and Mexico already have.
Today's question: Do you support tariffs on China and companies that steal from U.S. companies?
Please email us at trumpsamerica@mic.com with your thoughts.
Thursday in Trump's America:
Budget: Lawmakers have given themselves two days to fund the government through the rest of this year. The more than 2,200 page bill will be voted Thursday by the House and Friday in the Senate. It is expected to pass.
The deal allocates $1.6 billion to Trump's border wall — far below the $25 billion the White House wanted. It does not increase spending on new immigration agents or holding beds for undocumented immigrants. And it increases military spending by the most in 15 years, while allocating $21 billion to infrastructure projects, including a tunnel between New York and New Jersey that Trump did not want the government to fund. The bill also has deep cuts to foreign aid, but it does not cut the Environmental Protection Agency, Pell Grants or affordable housing programs.
Biden: Former Vice President Joe Biden said Tuesday he would have "beaten the hell" out of Trump in high school for his treatment of women. That echoed Biden's comment during the 2016 campaign, when he said, "I wish we were in high school — I could take him behind the gym."
Trump responded by tweeting, "[Biden] would go down fast and hard, crying all the way. Don't threaten people Joe!"
2018: Progressives are in reset mode after they failed to unseat Rep. Dan Lipinski (D-Ill.) in his primary election on Tuesday. Mic's Andrew Joyce wrote, "If progressives can't even beat a pro-life anti-LGBT Democrat in a safe blue Illinois district, it's hard to see how they make inroads anywhere else within the party."
Meanwhile, Republican leaders are warning House members who have long felt "safe" in their districts to not be complacent and prepare for a potential Democratic wave in 2018.
Trump rating: A new Quinnipiac poll pegs Trump's disapproval rating at around 50% and his approval rating at 40%. Both are near the highest he has shown since the inauguration.
Influence: A New York Times report found a cooperating witness with special counsel Robert Mueller's Russia investigation worked to turn a fundraiser at the White House into an opportunity for Saudi Arabia and United Arab Emirates rulers to influence Trump.
FBI controversy: Fired former FBI Deputy Director Andrew McCabe authorized a criminal investigation into Attorney General Jeff Sessions in March 2017 following an inquiry from Democratic lawmakers about Sessions' meetings with Russian officials.
Death penalty: Sessions urged federal prosecutors to seek the death penalty against drug dealers, following weeks of Trump calling for the policy shift.
Teens and guns: Ahead of Saturday's March for Our Lives, a new survey finds gun violence is the top issue for young voters.
Mic obtained a copy of the letter Barack and Michelle Obama sent to the survivors of the Feb. 14 Parkland, Florida, shooting. "You've awakened the conscience of a nation," they wrote.
Kellyanne Conway: The former Trump 2016 adviser is reportedly leaning toward becoming his communications director.
Facebook: CEO Mark Zuckerberg admitted to wrongdoing in multiple interviews released Wednesday, saying Facebook made mistakes in letting private user data leave the platform. He said Facebook is taking steps to secure data and prevent the spread of disinformation. Zuckerberg added he'd be happy to testify before Congress.