What could Rihanna's rumored lingerie line look like?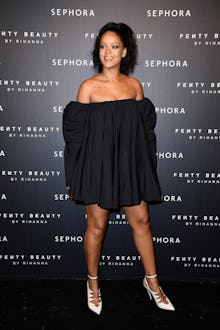 Earlier this month, rumors began to circulate that Rihanna had struck a deal with TechStyle Fashion Group for a lingerie line. "Fenty lingerie?" the world pondered all at once, "Take my money."
For a woman who's rocked some extraordinary lingerie in her music videos — never forget the see-through robe from the "Needed Me" video and the black negligee from the "Kiss It Better" video — it felt like a perfect fit.
Considering the success of Fenty Beauty and Fenty x Puma too, Rihanna's aesthetic and business smarts have proven to be hugely profitable. So what will this rumored Fenty Lingerie look like? One guess is that Fenty Lingerie will bank on Rihanna's outstanding fashion sense, with a lingerie line that is entirely original and entirely her.
"Rihanna is known for her sense of style," Cora Harrington, the founder of the lingerie blog the Lingerie Addict, said in an email. "Her strength as a branding partner (as seen in Fenty x Puma, for example) would be incorporating her personal style into the product... not creating a product that could be interchangeable with other items already on the market."
Like, can you imagine a lingerie set inspired by her fearless 2017 Met Gala look? We would perish.
"I would love to see a pajamas-as-daywear ensemble, for example, or a voluminous robe with completely over-the-top sleeves, or sheer dresses that could also double as outerwear," Harrington said. "I would say big, bold, unique, and fashion-forward is the way to go."
It'd certainly fit Rihanna's current fashion vibe.
Another guess is that Rihanna releases a line of Swarovski crystal, bedazzled thongs, because she so regrets not wearing one under her notorious see-through, Swarovski crystal-studded Adam Selman gown at the CFDA Awards in 2014.
"Could you imagine the CFDA dress with a bra?" she told Vogue. "I would slice my throat. I already wanted to, for wearing a thong that wasn't bedazzled. That's the only regret I have in my life."
There's also the fact that Rihanna has been outspoken about her hatred of bras, so maybe she'll skip them entirely. Bras are extremely expensive to produce as well, according to Harrington. "I would be surprised if Rihanna's lingerie collection has bras," Harrington said. "Bras are a high cost/low profit margin item with a high return rate and an extensive size range."
But say Rihanna did want to do bras, or rather TechStyle, which worked with Kate Hudson on Fabletics, wanted her to. Could she take her same theory she used for Fenty Beauty, of wanting to create a brand that looks out for all her customers seriously, and drop a size-inclusive lingerie line?
It's a nice thought, but there are serious costs to consider.
"Launching with a full size range can be expensive and is often beyond the reach of new — or even old — brands," Harrington explained. "That's a big reason why you see companies specializing. For example, there are plus-size specialists and DD+ specialists in bras because everything — from the materials to the patterns to the construction to the factories — has to change as you're moving across the range. So for those companies who want to make really good products for extended sizes, it's a better use of their resources and their talent to focus exclusively on those."
So that'd be an extremely surprising move.
Another lingerie pipe dream we have that would be possibly more on-brand is that, considering the fact that Rihanna saw the gap in the market for inclusive makeup shades at Fenty Beauty, she could also prioritize inclusive nude lingerie. She could have bras and underwear and tights in shades that flatter more than one skin tone.
That's something that Nubian Skin, a brand that launched in 2014 as the first major brand to focus on producing inclusive nude lingerie, would welcome.
"Women of color having more options for nude lingerie is always a great thing, hence we started Nubian Skin," Ade Hassan, the founder of Nubian Skin, said in an email. "We'd be lying if we said the thought of competing with a massive star isn't daunting, but women of color deserve options, and we have a clear vision of what we're trying to do with Nubian Skin, and a Fenty Beauty Lingerie line wouldn't detract from that."
They too think that Rihanna even broaching the subject would do their industry well. Plenty of people don't realize that "nude" lingerie is still largely the color of a bandaid.
"Having someone as well-known as Rihanna championing the issue means everyone will be talking about it," Hassan wrote. "We saw a lot of mainstream brands add a 'chocolate' or 'mocha' to their lines (even if just for a season) after we launched, so we can only imagine the sudden urge to address 'the problem' if a Fenty line was to sell out."
But this is all just us hoping and dreaming. As with everything Rihanna does, all we can do is wait to be awed.