Brittany Packnett: We need to talk about the role of white privilege in the gun control debate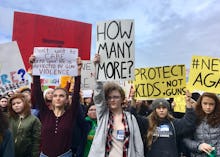 In the wake of the Feb. 14 school shooting in Parkland, Florida, the young survivors at Marjory Stoneman Douglas High School have asked their fellow Americas to reckon with the nation's gun violence epidemic.
But as we talk about what we need to do to curb more senseless tragedies caused by gun violence, activist and educator Brittany Packnett wants Americans to start a conversation about white privilege and its role in the gun control debate.
In a powerful video op-ed for Mic, Packnett reveals the ways that white privilege has been quietly shaping the way we talk about guns.
"White privilege is walking out of your school in protest of gun violence and not being met with any consequences," Packnett said. "White privilege is staging a walkout for gun control and having colleges and universities say that you will not be punished and your admission won't be changed, when the same was not happening for Ferguson and Baltimore school walkouts. White privilege is being able to open carry without fear of retaliation. White privilege is the knowledge that your race will never add any additional weight to what you have to carry around all the time."
It can be uncomfortable to talk about race and the privileges it affords some of us — but Packnett thinks that dialogue is vital.
If you want to join the conversation — or if you're unconvinced that white privilege is actually playing a role in this debate — Packnett has a message for you. Watch her latest video column for Mic above.