Dropbox IPO kicks off — and 7 other money stories you may have missed this week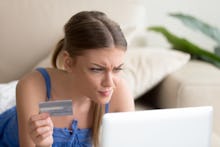 You can now buy stock in Dropbox Inc., which priced its initial public offering at a higher-than-expected $21 — before shares jumped to $29 at open Friday. Demand is high, but whether you personally should buy a stake in the IPO is up for debate: Critics warn of slowing revenue growth, intense competition and an accounting method that makes the company's finances seem rosier than they are.
Of course, if demand for shares remains high as trading progresses, it could be a reassuring datapoint for those anxious about recent tech sector troubles: Any good news about market health might be welcomed, following a hectic week for investors and consumers alike.
On Wednesday, the Federal Reserve took the step of raising interest rates, which means better interest on bank accounts for savers — but higher costs for credit card users and other borrowers. The stock market responded favorably to the Fed's announcement, but dropped Thursday following a White House announcement of new import tariffs on Chinese products. Then stocks opened slightly higher on Friday.
"Buckle your seat belts," said Bankrate chief financial analyst Greg McBride in an email. "At a time when interest rates are rising, central banks are beginning to withdraw stimulus from markets and the odds of a trade war have grown, you can bet that markets will be volatile. Expect more of these ups and downs."
For now, it's important for investors to keep their cool, McBride added.
Still, that doesn't mean burying your head in the sand. At least as a consumer, there are several other actions you might want to take after the past week's news — including a smoke detector recall and yet another data security breach, this time via travel company Expedia's Orbitz.
Here's what you need to know.
1. Need new shoes or clothes? You may want to hit the mall.
The news: President Trump announced Thursday a series of new tariffs levied on products from China, including clothing and electronics. On Friday, tariffs on aluminum and steel imports also went into effect, though the President also announced a number of temporary exemptions for allies including the EU and Australia, among others.
Takeaway: A trade war is now the top fear among Wall Street economists, according to a recent CNBC survey. Experts have warned that the continued use of broad, wide-ranging tariffs could lead to blowback for not just investors and workers, but also consumers. In other words, shopping could get a lot more expensive.
On Friday morning, China announced a list of 128 U.S. goods it would target with tariffs of its own if a deal isn't reached. As for the metal tariffs, negotiators have until May 1 to work out deals that will determine which trade partners will exempted from the new tariff.
As with any tax, corporations aren't supportive of the tariffs, which increase costs in particular for big importers like Walmart. But economists argue that consumers ultimately bear the brunt of these costs through higher prices, and tariffs can also lead to retaliation from countries that buy American products.
2. The Orbitz hack means it's time to check your credit report and card statements.
The News: A hack at the travel company Orbitz may have resulted in the leak of more than 800,000 credit card numbers, Bloomberg reports.
The Takeaway: Customers who booked through Orbitz in 2016 and 2017, as well as some customers who may have booked travel through Amextravel.com, may have had their credit card numbers, addresses, and other personal information divulged as a result of the hack.
The company is in the process of notifying people who may have been affected, and is offering a year of free identity protection services and credit monitoring, according to Consumer Reports. If you haven't heard from them yet, but are concerned your data may have been involved in the breach, you can reach out to them here.
Given the number of breaches since the Equifax leak, it's increasingly important for consumers to assume that hackers might have gotten some of their personal information by now — and take basic steps like checking free credit reports. If you haven't, you might also consider taking further steps to safeguard your identity, for example by requesting a credit freeze or installing a secure password monitor.
3. You might need to check your smoke detector.
The news: Close to half a million "Kidde dual sensor" smoke alarms have been recalled after an alert from the U.S. Consumer Product Safety Commission.
The takeaway: If you own model PI2010 or PI9010 Kidde brand fire alarm, you can order a replacement from the company website or by dialing this phone number.
The company says the problem is a yellow cap that was left on the device during manufacturing which affects the machine's ability to sense smoke, according to Tribune Media. It's the second big recall from the company in under a year, just a few months ago Kidde issued a recall of more 38 million fire extinguishers.
4. Eating out this weekend? Tip well — and in cash.
The news: The Labor Department buried an internal analysis that estimated reversing an Obama-era tipping rule could shift hundreds of millions of dollars in tips from workers to restaurant owners, according to Bloomberg BNA. A provision in the current government spending bill would combat that practice by allowing service workers to sue for any stolen tips, plus damages.
The takeaway: No matter what happens with the spending bill, if you care about doing right by servers, it's a good idea to tip in cash. Bosses have more control when you pay by credit card, and tipping cash both eliminates processing fees and puts your money directly in the hands of your server.
The original Labor Department action sounds good for workers in theory: By collecting tips themselves, restaurants can ensure some of the rewards of everyone's work are passed to busboys, cooks, cleaners and other employees who don't have the same opportunity to schmooze customers.
But economists who have studied the rule's impact found since the law doesn't actually require bosses to pass 100% of the tips on, close to $6 billion in tips would wind up in restaurant-owners' pockets instead.
5. Use a robo-adviser? Double-check your fees.
The news: Robo-advisers that made a name for themselves offering low-cost, low-effort retirement accounts are seeking out new revenue streams, reports Wired.
The takeaway: One of the most popular financial innovations of the last decade, as Wired's Felix Salmon notes, are the rise of cheap, automated investments that help customers cut down on their fees. But certain firms are quietly adding costly new products on an opt-out, rather than opt-in basis, Salmon reports.
Investors spend a lot of money that could go into their retirement account on management fees. In the last decade or so, a crop of disruptive startups have been very successful at taking advantage of this dynamic by trying to offer automated investments which would cut down on some of those costs.
But as Salmon points out, a lot of those companies have had trouble making money — and have started to stray from the low-cost principles that drew customers in to begin with.
6. Want to do something about guns? Maybe call your bank.
The news: Consumer banking giant Citi announced a crackdown on its business services customers that are in the gun business, including a new rule prohibiting them from selling guns to anyone without a background check.
The takeaway: Aside from calling their local representatives, consumers have precious few tools for influencing gun policy.
Money talks, but pulling your investment dollars out of the gun industry is unfortunately difficult due to the prevalence of gun or gun-adjacent companies in mutual and pension funds. By giving consumers the option to bank with companies with more responsible policies, advocates now have a new tool they can use in the fight for stronger gun control.
7. Watch your back on Slack.
The news: The workplace communication company Slack rolled out a new paid feature that makes it easier for your employer to access your data through the platform without your knowledge, according to Fast Company.
The takeaway: Slack is phasing out a feature called the "compliance export" which automatically notified team-members when companies were pulling their private chats. According to Fast Company's report, they new upgrade will allow companies to access those conversations more surreptitiously if they choose to.
Because it enables features like GIFs and emoji, Slack lends itself to more casual conversations between employees. But as Fast Company's Cale Weissman put it on Twitter, you should probably avoid saying anything there that you wouldn't want your boss to read.
It's an odd time for any company to relax policies on privacy, as Weissman noted in his column: In light of the revelations about the scale of data collection at Facebook, consumers are more aware than ever of the dangers of handing over private data that gives even more power to tech companies.
Sign up for the Payoff — your weekly crash course on how to live your best financial life.