Belize pledges to ban plastic forks, bags and other single-use items by 2019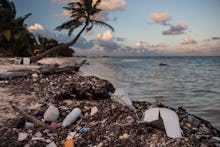 On Tuesday, Belize announced it would phase out all single-use plastic products such as shopping bags, utensils and straws by April 22, 2019 — coinciding with Earth Day. The ambitious proposal comes on the heels of another initiative from the Central American country, namely the moratorium it put on offshore oil exploration in December.
"Belize has firmly asserted itself as a world leader in the safeguarding of globally significant marine assets," said Janelle Chanona, a vice president of Oceana who led the campaign to legislate against drilling in the Belize Barrier Reef, in an email interview. The coastal communities of San Pedro and Placencia, she said, are leading the transition. "Several Belizean business have already launched innovative and affordable alternatives to several of the items to be phased out," said Chanona, who is from Belize.
The evidence of plastic's danger, particularly to marine life, is overwhelming and gruesome, and a report from the Ellen MacArthur Foundation predicts that by 2050, plastic in our oceans will outweigh the fish that live in them. Another recent study found that the amount of nonbiodegradable plastic in our oceans will increase threefold from 2015 to 2025. In Belize, plastic harms marine life, leaks into the drinking water and clutters the streets. The shores are at the mercy of the giant, floating island of plastic that is growing in the Caribbean Sea.
Even countries that do not border any major waterways are recognizing the need to shift away from single-use plastic products. In December, Norway introduced a resolution to United Nations members to monitor their plastic output and begin experimenting with ways to reduce it. All 193 members signed.
Costa Rica made their plastic-free pledge in 2017, the same year India implemented their ban with the intention of substantial change. Roughly 60% of the ocean's plastic reportedly comes from India.
There are around 40 other countries that have banned or disincentivized single-use plastics, most commonly when it comes to shopping bags. France banned plastic cups and plates in 2016. The United Kingdom has implemented a surcharge for getting plastic bags while shopping, while Kenya has gone so far as to punish plastic bag users with penalties up to a $40,000 fine or a four-year jail sentence. Taiwan — the home of bubble milk tea — has announced a multiphase reduction on plastic drinking straws, with the aim of a blanket ban by 2030.
Small and developing countries might be taking the most radical steps in this initiative, but it's the big players who will have the most impact. India and China are both taking strides to reduce plastic use, but overall the United States has remained stagnant on this issue.
There are only two states which outright ban single-use plastic bags (and likely straws in the near future): California and Hawaii. California may pack a large population, but much of the country is determined not to let the Golden State's politics cross state lines, despite the fact that the ban inconvenienced next to no one. Instead of following the example of the place that can actually see the floating island of trash, nine states have pre-emptively banned the banning of single-use plastic products.