Brother Vellies' Aurora James on fashion in the Time's Up era and how she built her brand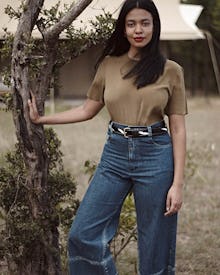 Aurora James, the founder of shoes and accessory brand Brother Vellies, subscribes to the notion that you can't make something truly beautiful in an ugly way. It's just impossible.
"Nothing beautiful comes from abusing people of color in factories," James said in a recent interview. "Nothing beautiful comes from casting a few models of color in your campaign and then thinking you've done your part. That's actually horrific."
Every level of James' business aims to be consciously good. With a constant eye on sustainability, Brother Vellies makes sure to help sustain artisanal jobs in South Africa, Ethiopia, Morocco and other places where certain traditional crafts are on the brink of disappearing by working with local artisans and giving them fair wages and skills training. The company also uses highly sustainable products, from its leather to its fabrics, and has a personal relationship with the farmers who supply their materials. These are just a few of the many other business practices Brother Vellies follows, which are rare to find in the fashion industry.
"There's so many fashion brands out there already, and the people behind the products are the nameless faceless ones, and they're not treated so wonderfully either," James said. "This is about telling cultural stories and happy stories about Africa, which is something that I wasn't really exposed to. Africa was pretty much just The Lion King and World Vision commercials for me growing up. When I started traveling there, I saw there were a lot of people there who were very happy and I wanted to share that."
James has created one of the most conscious brands fashion has. But five years ago, James didn't see it coming at all.
For years James worked in different areas of fashion, with models and fashion show production. Eventually she got burned out and veered into working with plants in Los Angeles, ending up at a school garden initiative where she focused on the foods going into local schools.
The idea for a fashion brand came unexpectedly to James when she went to Africa and was struck by a group of artisans that would eventually change her life. She saw them making vellies, which are traditional flat African walking shoes, loved them, bought a bunch and started giving them to friends.
"I wasn't thinking of a fashion brand," James admitted. "These skill sets are dying out because there hasn't been a market for them, so I thought that maybe if I take some of this back from some of my friends, this will save these crafts."
James saw a demand, and started working with the artisans directly in tweaking the design of the shoes a bit, adding different fabrics and patterns, to make them even more alluring. That's how Brother Vellies, which now makes plenty more than just vellies, was born.
"The name itself came from this idea of brotherhood of cultural apparel and shoes," James explained. "You're able to identify different people based on their traditional apparel."
Two years later, James was a finalist for the CFDA/Vogue Fashion Fund, which she would go on to win, and was asked to present at New York Fashion Week, a presentation that Kanye West attended.
With shoes that can be anything from sparkly boots to feather pumps to a relaxed sandal, and bags that Beyoncé now favors, James often begins her design process with the artisans themselves, and often finds inspiration from their traditional crafts.
"We use a lot of woven fabric which is created by women in Burkina Faso," James said. "They needed an outlet for their work and their fabric, which I think is beautiful. The Burkina sandal is now our number one selling sandal. I designed that shoe based around that fabric."
By focusing on artisans and the crafts they make, Brother Vellies has expanded beyond just Africa to, as James puts it, everywhere they feel like skills should be preserved, including Mexico and Indonesia.
"I don't ever want to say we're setting the standard because we still have so much to grow and do," James said. "We're still trying to figure things out, but I do know that it can plant a seed of an idea in brands for how they can go about their own manufacturing and production."
Given James' passion for this brand and its mission, you can then only imagine how heartbreaking it's been for her to see her designs ripped off by brands that don't have the same business practices. Last year, James accused Steve Madden of ripping off one of her designs. The year before that, she had to call out Zara for the same thing.
If people want more brands like Brother Vellies in the world, James said, then they have to support them financially.
"It's on a consumer level," James said. "If one of these millions of brands — Steve Madden or Uggs — knocks us off, we need them to realize why their sandal is $80 and ours is $230. You're voting for people and how they should be treated. In 2018, we're all up in arms in a great many horrific things that are happening, but people are like posting their Women's March photos while wearing H&M."
You can take the quickest glance at James rather spectacular and gorgeous Instagram and see that she's not the kind to shy away from a political message. So these past few months, with the #MeToo and Time's Up movements invading the fashion industry itself, has been very interesting. In fact, James knows that it had an effect on her most recent designs.
"Everything that has been going on with the Time's Up movement, it's made us think and talk a lot about women and women's sexuality," James said. "I obviously don't think that what a woman wears dictates how another person is allowed to treat or mistreat her. What I noticed is that our color story is more overtly sexual for Fall. I thought it might be fun to not back down from sexuality, as a rebellious act. If you look at fashion historically, you can see how it's responded to things. It's using fashion as a tool to communicate to the world, should show how you think the world should be."
James doesn't intend on being obviously political with her designs however, trying at least at this point to keep things up for interpretation.
"It can be really subtle," James said. "It's not like people go on our site and are like, 'Wow, this girl's a huge Democrat.' It's not like you look at someone's painting and go, 'Oh OK, it's about this.' You have to find the subtext of the work, but I feel like it would be impossible to me to not share my views of the world with the designs out there."
In this era, Brother Vellies isn't slowing down anytime soon.
"Every day I get to do this is an amazing honor and blessing," James said. "It's hard to even imagine all the things that are going to happen in the future. I just hope that ultimately the more shoes we have out there on women or men, the more people we're going to employ and the more the idea of conscious commerce will seep into the consciousness of the world."