Citigroup announces new restrictions on firearm sales by its partners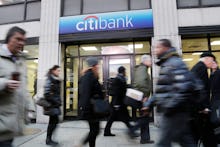 First the brands took a stand against gun violence. Now the banks are weighing in.
On Thursday, Citigroup became the first Wall Street institution to enter the ongoing national debate on gun control in America, announcing a new policy that forbids its retail sector clients and partners from selling guns to individuals who have not passed a background check or who are under the age of 21. The policy also prevents the sale of bump stocks.
Ed Skyler, Citi's executive vice president for global public affairs, said in a statement that the new policy is not "an ideological mission to rid the world of firearms," but rather an attempt to "do our part as a company to prevent firearms from getting into the wrong hands."
"We know our clients also care about these issues, and we have begun to engage with them in the hope that they will adopt these best practices over the coming months," Skyler wrote. "If they opt not to, we will respect their decision and work with them to transition their business away from Citi."
After alleged shooter Nikolas Cruz opened fire Feb. 14 at Marjory Stoneman Douglas High School in Parkland, Florida, killing 14 students and three faculty members, major national brands like Walmart, Delta Air Lines and MetLife insurance company have all announced decisions to sever ties with the National Rifle Association.
But Citigroup's decision marks the first time a major, public U.S. bank has waded into the contentious debate on gun control, signaling just how widespread support for common-sense gun reform has become in America.
The announcement comes just two days ahead of the March For Our Lives rally Saturday, which will see teens descend on Washington, D.C., and hundreds of cities across the country in an effort to keep pressure on elected officials to enact stricter gun laws.