Orthorexia is an eating disorder fueled by Instagram, but Instagram may be the best place to recover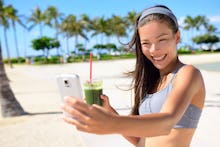 Drake Coleman sat in his family's hotel room, weighing the small plate of meat and vegetables he would eat for dinner on the scale he'd packed for vacation. While the rest of his family was out to dinner together, the 18-year-old sat and ate alone, listening to podcasts about the ketogenic and paleo diets. He was on a ski trip with his family, but Coleman barely skied at all — his body wouldn't allow it. "I would go up on the mountain and I would feel way too cold and have to come back down, because my body temperature was so low," he said.
Every morning of the vacation he would wake up, weigh himself, run 10 miles in the hotel gym, have a small carbohydrate-free, sugar-free, gluten-free and dairy-free breakfast, and attempt to hit the slopes. He'd end his days alone, eating in the hotel room.
It was on this trip that Coleman realized his disordered eating had gotten out of control. When he returned home to Texas, he sought professional help and was diagnosed with an eating disorder called orthorexia. People with orthorexia are overly concerned with whether their food is "pure," "healthy" and "clean" enough, and often restrict their diet to a small number of "safe" foods. Those foods tend to be fruits, vegetables, nuts, seeds and little else.
While anorexia is an obsession with controlling the amount of food consumed, orthorexia is an obsession with controlling the quality of food consumed. The disorder is thought to have a close connection to obsessive-compulsive disorder. Many people, like Coleman, are believed to experience both anorexia and orthorexia concurrently.
Orthorexia has yet to be officially recognized as a disorder separate from anorexia in the Diagnostic and Statistical Manual of Mental Disorders. That is at least partially due to the lack of research about orthorexia the last time the DSM was updated. Though it's not an officially diagnosable condition, many psychologists and dietitians believe that orthorexia is unique and should be treated as such. The eating disorder treatment facility that Coleman attends even publicizes its special programs for orthorexics.
Although the word orthorexia isn't as familiar as anorexia or bulimia, the imagery associated with the condition is pervasive. Orthorexia thrives on Instagram. When a person posts endless photos of elaborate smoothie bowls, salads and abdominal muscles, this could be a sign that they're experiencing a real problem. Some argue that Instagram may contribute to an unhealthy culture of comparison and obsession for people prone to eating disorders.
There's a real connection between orthorexia and Instagram
A study from University College London published in June found more Instagram use was associated with a higher tendency toward orthorexia.
The study's authors suggest three main reasons that Instagram use is linked to symptoms of orthorexia. First, the authors say that Instagram's image-based platform plays into the picture-superiority effect, a psychological phenomenon meaning people are more likely to remember images than words. Second, they say individuals curate their personal feeds with accounts they're interested in. Finally, Instagram celebrities with lots of followers are seen as experts, even if they have little to no qualifications to tell someone what they should or shouldn't be eating.
Social media has transformed the way people judge how they eat and what they weigh. "It used to be that people weigh themselves on a scale," Sondra Kronberg, founder of the National Eating Disorder Association, said. Now people are more concerned about how they appear to others on social media, Kronberg explained. Due to the constant flow of images on sites like Instagram, people are comparing their bodies to older photos of themselves as well as photos of other people.
Coleman said he initially fell down the rabbit hole of "wellness" Instagram by following a man named Dr. Axe, a proponent of the ketogenic diet. The ketogenic diet (known as "keto") advises its followers to cut out all carbohydrates and stock up on fats and protein with the promise of weight loss. It's essentially the same as the Atkins diet that was popular in the 1990s. Like all highly restrictive diets, keto is difficult to stick with and doesn't seem to have many long-term health benefits.
The dangerous journey into "wellness" Instagram
Coleman made a separate Instagram account called DailyMetamorphosis just to follow people like Dr. Axe and to share his own health journey. Posts from that page can be found throughout this story. He posted photos of his extremely low-calorie meals, his body composition and his workout routines. He was using hashtags like #keto, #primal, #paleo, #glutenfree, #fasting, #lowcarb, #antiaging and #fatloss.
Coleman's Instagram feed at the time was filled with "pictures of beautiful food that had been curated and designed and perfectly plated," he said. "There's no way that what I was eating could have gotten anywhere close to how pretty that was … because it's not real." He said it made him jealous to see all these Instagram influencers posting their smoothie bowls and fancy salads. He was spending a lot of time crafting his own beautiful meals, but they were never as photogenic as the ones he saw other people post.
On a platform like Instagram, "It's hard to get a good picture of what's real, what's staged, and what's healthy and what's not," Kelly Boaz, a holistic nutritionist specializing in eating disorders, said. "Yeah, that plate of vegetables looks good, but if that's all you're eating in a day, that's problematic," she said.
More than anything, though, Coleman said scrolling through his Instagram feed made him hungry.
"I was drawn to using Instagram as a way to experience food when I wasn't eating it," Coleman said. "I think most people who are so obsessed with food that they have to follow all of these Instagram accounts ... are probably hungry." He said that he believes his body was sending him signals, telling him to look at food constantly because he wasn't eating enough. Besides the hunger he was trying to combat, he was also using Instagram to find validation from the people he saw living what he thought were perfect lives.
"I was drawn to using Instagram as a way to experience food when I wasn't eating it."
"I'd lost a lot of social connections in that season of my life, when I was having to be restrictive around food," Coleman said. "So I guess I was looking for that online through my food, without realizing that what I was really searching for was connection and relationships and not this perfect plate."
The other side of Instagram — recovery communities
Since going into treatment, Coleman says that his approach to Instagram has changed significantly. On Jan. 24, he posted a photo of himself holding a milkshake. The next day he took a hammer and smashed his scale. He posted a photo of the destroyed scale on his page, announcing that he had met with an eating-disorder specialist and a dietician. He gave up all the #paleo and #lowcarb hashtags and switched to #orthorexiarecovery, #bodypositive and #intuitiveeating. To give a sense of scale: there are more than 60,000 posts on Instagram tagged #orthorexiarecovery and 121,000 posts tagged #orthorexia.
"I've actually kind of found a lot of really good people through Instagram that have really helped fill that vacuum, once I decided to just unfollow all of the pages that were problematic," Coleman said.
Lucky for him, there's a thriving eating-disorder recovery community on Instagram.
"Reaching out and creating this community, and even just a food and body-positive bubble for yourself can actually really be helpful in helping you feel like there's other people who are fighting this, and other people who have fought it, and who I can find hope and reassurance from," Emily Fonnesbeck, a registered dietician, said. "You get to decide what media you take in ... If you're following something that is making you feel anxious, or causing unfair comparisons or unrealistic expectations, it's probably best to unfollow it." Some popular hashtags in the eating disorder recovery space include #edrecovery, #prorecovery, #antidiet and #losehatenotweight.
The eating disorder recovery community on social media "makes recovery accessible to everyone," Boaz said. "There's lots of opportunities to connect with people who are doing their damnedest to challenge what's going on in the mainstream culture around food."
Coleman hopes his account will help his followers in their recovery journeys, and sees his Instagram page as the first step to getting involved in the eating disorder recovery community professionally. "My long-term goal would be to create resources and materials as well as have a private practice, to help people balance the important things in life like food, faith and community in a way that is empowering and leads to health — mind, body and spirit," he said.