The radical reproductive justice movement launched in 1994. Its co-founders say little has improved.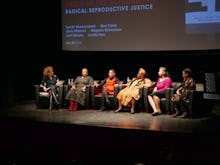 On Tuesday night, two co-founders of what's become known as the radical reproductive justice movement sat down for a two-hour panel discussion at the Schomburg Center for Research and Black Culture in Harlem, New York City.
Before an audience of about 200 people, the long-time advocates for reproductive rights, healthcare and education for black women — Toni Bond Leonard and Loretta Ross, both of whom are black — talked about their decades of advocacy and next steps for the movement.
Scholar activist Lynn Roberts and board-certified doulas Rina Crane and Morgane Richardson joined the pair onstage. Journalist Linda Villarosa moderated the discussion.
"Some of the issues we're dealing with [include], of course, access to abortion," said Leonard, who is also a theology scholar. "But we see that as one spectrum underneath an overarching need to access the full range of reproductive health services."
Leonard, Ross and 10 other black women activists got together in 1994 to think up alternatives to the dominant reproductive rights narrative at the time. They felt the status quo focused too narrowly on a pro-abortion rights versus anti-abortion rights dichotomy, and centered the experiences of middle-class white women.
Reproductive rights issues facing black women more specifically — such as environmental racism, welfare reform and mass incarceration — were being ignored, they said. So the twelve of them latched onto the term "radical reproductive justice" and started organizing ways to confront these disparities, including launching a campaign to get black women's issues incorporated into health care policy discussions.
But it quickly became clear, in the course of Tuesday's discussion, that few of the issues the movement committed itself to solving 24 years ago have gone away.
"[Safe], affordable methods of contraception, women-controlled methods of contraception," Leonard said. "Maternal and infant mortality and morbidity, as well as issues around HIV/AIDS, women in prison being able to have access to reproductive health care, as well as members of the LGBTQ community. All of these issues are still relevant [today]."
The topic of racial disparities in reproductive health made headlines in January when tennis star Serena Williams opened up to Vogue about the complications she endured after giving birth to her daughter, Alexis. According to the interview, Williams had suffered from blood clots in the past, and took blood thinners to ease them. But because of her emergency C-section, she could not take the medication during labor.
The day after her procedure, Williams was experiencing shortness of breath. She told a nurse she needed a CT scan with contrast and blood-thinning meds. The nurse thought Williams's pain medication was making her confused. She authorized an ultrasound of her legs, but nothing else. Williams persisted. And it turns out she was right — she had gotten several clots in her lungs and needed the blood thinners after all.
"I was like, 'A Doppler? I told you, I need a CT scan and a heparin drip,'" Williams said in the interview. "I was like, 'Listen to Dr. Williams!'"
In light of Williams' story, Leonard reiterated the importance of health care practitioners listening to women.
"I think the ... thing we see from the Serena Williams story is how health care professionals don't listen to women and don't acknowledge the fact that many times we are the experts of our bodies and our lived experiences," she said.
Crane added that, as a doula, she is on the frontline in moments like the one Williams described, helping women who have had health complications before, during and after pregnancy feel empowered to speak up.
"Someone other than Serena Williams maybe might have said, 'I feel something. You don't think it's something? Fine,'" said Crane. "And then, we wouldn't have her anymore."
This sentiment is widely felt among black women, ProPublica and NPR found after interviewing more than 200 African-American mothers for a 2017 report, titled "Black Mothers Keep Dying After Giving Birth. Shalon Irving's Story Explains Why." Indeed, even aside from facing inadequate access to safe neighborhoods, jobs, transportation and healthy food, the respondents consistently said they felt disrespected and devalued by health care practitioners.
And it seems clear that black women comprise the population that could arguably benefit most from extra support in reproductive health care environments. Nationwide, they face a three-to-four times higher risk of pregnancy-related death than white women, the CDC reported in 2017.
Even in a metropolis with as much concentrated wealth and resources as New York City, these disparities persist among black women with higher income and education levels, according to the city's Department of Health. Meanwhile, the national infant mortality rate for black infants is more than twice that of white infants per 1,000 births.
"There is a different level of care afforded to people of color, indigenous people, poor people and trans people," said Roberts, a professor at the City University of New York's graduate school of public health and health policy. "I think that is systemic. And that devaluing and that stigmatizing gets in the way of quality care."
It's part of a nationwide battle. In today's political climate, reproductive rights — such as the right to abortion access — are being attacked left and right by the Trump administration and its anti-abortion agenda. President Donald Trump has already nominated and secured Senate confirmations for "a dozen and a half" anti-abortion rights judges, NPR reported in January.
Pro-abortion rights activists in states like Kentucky and Mississippi — each of which has just one clinic licensed to provide abortions — are fighting back against state-imposed restrictions on choice.
The mandate to address these issues is included in the radical reproductive justice movement's framework, which states that the movement supports women's right to have children, right to not have children and their right to raise children in a safe environment. The movement also calls activists to take on issues that arise from white supremacy, classism and patriarchy.
In November, the movement was documented in the anthology Radical Reproductive Justice, published by Feminist Press and featuring more than 30 contributors writing about the movement's history, policy, practice and poetry.
"It was designed for this moment," proclaimed Ross, founding national coordinator of Sister Song, a reproductive health collective fighting for women of color — referring to the anthology and the calls for action the movement still embodies today.
Ross and Roberts, who co-edited Radical Reproductive Justice, and Leonard, who was a contributor, said they hope the text serves as a lens via which people inclusively reimagine all areas of society that may impact an individual's reproductive health. They further suggested addressing how the devastation following Hurricane Maria could impact mortality and children's lives in Puerto Rico; how religion and theology have been used to oppress individuals' sexual agency; and how immigrants' quality of life of in the U.S. impacts their reproductive rights.
Before the discussion wrapped up, Ross drove home the point that — though important — eradicating racial health care disparities is not a panacea for all reproductive injustices.
"I'm not fighting for the same sub-standard care that white women get," she said. "I'm fighting for a human rights standard of care that talks about whether there is violence in my community or in my home, whether or not the pharmaceutical companies are ripping us off for the medicines and the drugs that we may need or whether or not I'm going to have this child just to see this child's life expended in a war for oil."